Expat life and love lessons collide in debut novel by Marissa Tejada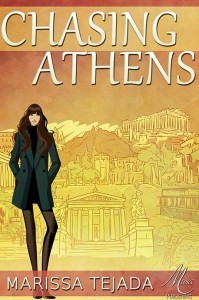 (Athens, GREECE) – Greece's economic crisis, culture and landscape inspired award-winning journalist Marissa Tejada to set her first novel, Chasing Athens, in the Mediterranean country where she moved to several years ago. E-book romance publisher Musa Publishing released the romantic comedy as part of its Terpsichore contemporary romance imprint on April 25, 2014.
Set in Athens, Greece, the Greek Islands and Ithaca, New York, Chasing Athens follows Ava Martin, a heartbroken American expat, whose new husband unexpectedly ditches her after their move abroad. Instead of returning to the States, she makes an abrupt decision to stay. Despite pressure from her mother, uncertainty over her divorce, and issues with her long-estranged father, she's determined to make it on her own. With her Greek friends, she laughs and learns while facing culture shock, language barriers and the charm of Mediterranean men, until a life-threatening emergency back home in sleepy Ithaca, N.Y., forces her to confront her disappointing past, and forces her to redefine the meaning of home.
"The heroine, Ava, gets thrown into Athenian reality including protests and violent riots. She also gets a taste of the alluring islands and vibrant nightlife.  I want readers to feel what it's like to live in a tumultuous, culture-rich, ancient yet modern city like Athens.  Like many stories about women's experiences abroad, place takes on a major role," said Tejada.  "My main character is influenced from a mix of cultures so her experiences are unique."
Chasing Athens sells for $4.99 on the Musa Publishing Web site. It can also be purchased and downloaded from Amazon, Barnes and Noble, Smashwords, all Apple devices and from any vendor that sells e-books.
About Marissa Tejada
Tejada was born in Brooklyn, New York and raised by first-generation Filipino parents on Long Island, New York.  She is an award-winning journalist who has worked across the United States as a television reporter and anchor in Florida, Washington State and Upstate New York. She has also worked in newsrooms in Los Angeles and London and managed high tech PR in San Francisco. Tejada graduated cum laude from the Roy H. Park School of Communications at Ithaca College.  She is a member of the Asian American Journalists Association.
Currently, Tejada is a full-time freelance writer specializing in food and wine, technology and travel writing.  She enjoys blogging for her travel photography blog, my Greece, my travels (www.mygreecetravels.wordpress.com).  She currently lives in Athens, Greece.
You can join her on Facebook, follow her on Twitter, Google +, Pinterest, or visit her website at www.chasingathens.com.
CHASING ATHENS
Musa Publishing 
Release date: April, 25, 2014
E-book ISBN: 978-1-61937-768-4
Price E-Book: $4.99