By Ferdinand Patinio and Christopher Lloyd Caliwan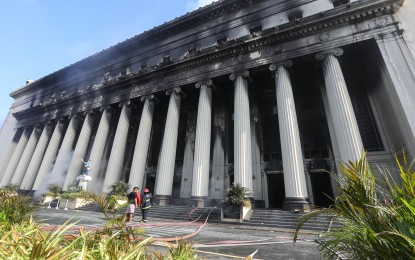 MANILA – The city government of Manila on Monday allayed fears that a new structure will be erected where the Manila Central Post Office in Liwasang Bonifacio is located.
In a five-minute live video message posted online, Mayor Maria Sheila "Honey" Lacuna-Pangan assured that the current location of the post office which was hit by a fire late Sunday is protected by local and national declarations.
"For those who have doubts that maybe someone else wants to build in the Manila Central Post Office area, according to the local ordinance, the area is an institutional zone. It was also declared in 2018 by the National Museum as an important cultural property. The National Historical Institute declared it as a heritage zone," she said.
"As a heritage zone, no other structure can be built –only the Manila Central Post Office. It is protected by the zoning ordinance. The local and national government cannot build any infrastructure except the Manila Central Post Office," she added.
At the same time, Lacuna-Pangan said the city is willing to work with the national government for the immediate reconstruction and restoration of the historical building.
"The Manila government is ready to cooperate with the national government to quickly repair and restore the Manila Central Post Office building," she said.
It was reported that the fire started at the General Services Department located at the basement at 11:41 p.m. Sunday.
The fire reached general alarm at 5:54 a.m. and was declared under control at 7:22 a.m.
"Mapping operations are still being done to ensure that no more fires will break out," Lacuna-Pangan said.
She also reported that the Post Office management has decided to temporality hold office at their Foreign Mail Distribution Center located in Delpan, Manila.
"We are hoping that they will be in operation in the coming days," she added.
The Bureau of Fire Protection (BFP) estimated the damage to the gutted iconic building at around PHP300 million.
The BFP National Capital Region Public Information Service said seven persons were injured in the blaze.
Those injured in the fire incident include Fire Officer (FO) 2 Joel Libutan, FO1 Carlo Abrenica, SFO2 Julio Erlanda, FO2 Jeremy Roque, FO1 Josaphat Arana, fire volunteer Toto Doslin, and civilian Elain Dacoycoy.
SFO4 Domingo Mendoza Jr., the fire investigator on the case, reported that 42 BFP fire trucks and 40 private fire trucks responded to the inferno, while seven ambulances were on standby during the blaze.
BFP-NCR head Chief Supt. Nahum Tarroza confirmed that the building, which is considered a national historical landmark, is no longer useful due to the extent of the damage.
The construction of the building, which was designed by Filipino architects Juan Arellano and Tomas Mapua, started in 1926.
The building was damaged during the Battle of Manila in World War II and was rebuilt in 1946. (PNA)