LOS ANGELES – In the beginning, Nonito Donaire Jr. was just one of the regular boxers who were winning bouts when only a few were looking. Then he pulled off a big upset win over erstwhile undefeated Aussie/Armenian champion Vic Darchinyan in July 2007, winning the IBF and IBO Flyweight world titles. Boxing pundits saw it was good. His stoppage of Darchinyan went to the record books as "Knockout of the Year."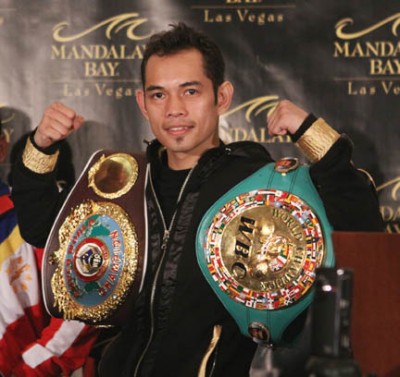 Donaire drew the attention he so needed, even as most boxing insiders still considered that big win more of a fluke. Then, on December 4, 2010, Donaire drew more attention from the boxing world with another huge victory over Wladimiro Dydorenko at the Honda Center, Anaheim, California. Donaire dropped the Ukrainian three times before finishing him off in the fourth of the scheduled 10-round title fight for the WBC Continental Americas bantamweight belt. Boxing pundits, this time, saw it was very good. Top Rank Boxing, where he is one of the fighters in its stable, did not hesitate to give Donaire the mantle of superstardom.
In between Darchinyan and Dydorenko, Donaire defeated all but one of his six opponents by way of KOs in abbreviated rounds. The Darchinyan and Dydorenko were statement victories that were quite impressive by any measure. That made the 28-year-old Donaire a certified headliner, and subsequently, earned for him a tiff with the great Fernando Montiel (44-3-2, 33KOs) in the mainer of the Top Rank boxing card.
Donaire did not rest on his laurels. He wanted to test how far his God-given talent would take him. But it looked like the boxing fans were not yet ready to embrace him as a true headliner. At the Mandalay Bay Events Center, site of the Feb. 19 Top Rank boxing card, there were a lot of unsold seats. It was understandable why Bob Arum's was not wearing his vintage smirk during the post-fight press briefing.
Earlier, a group of young Fil-Ams hanging around the casino took notice of my big press ID and asked me, "Is the Pacman fighting again?" When I told them it's Donaire headlining the boxing card, they left looking askance at Donaire's picture on my Media Credential ID.
Meaning Donaire is not yet a household name in boxing. He still needs more impressive wins to gain respect as a fighter. Even the big "Fil-Am media" from Los Angeles totally snubbed the Donaire fight. Likewise missing were the high and mighty junkeeters from the Philippine government.
That perception that Donaire (pronounced do-nigh-reh) was just the talented Fil-Am boxer from the Bay Area quickly changed after Saturday night during his title fight with Montiel. Four-and-a-half minutes and one-and-a-half rounds later, Donaire leveled up to the circle of elite boxers in the world with a quick annihilation of the great Montiel. The 28-year-old GenSan native, who answers the moniker "The Filipino Flash," has proven to all and sundry that he is not just another flash in the pan, but an exciting fighter who is primed for the megabuck outings.
Said Arum: "Nonito is a star, there is no question about it. His speed and punching power are exceptional. (I can see) he will have a very successful career ahead." Though Arum said that Donaire has to move up, and like the Pacman, challenge the featherweights and welterweights champions.
With the victory the Filipino Flash earned $350,000, and wrested the WBC and WBO championship belts from the Mexican. The way he brought the ring savvy Montiel to submission was so compelling, the Ring Magazine reportedly has moved him up to No. 3 pound-for-pound boxer behind Manny Pacquiao and Floyd Mayweather Jr. Before the fight Donaire was pegged at No. 5 in the pound-for-pound list.
The first round saw two fighters sizing up each other's moves. Â Nonito, on few occasions, tagged Montiel a couple of times with a left uppercut, a left hook and a few combinations.
"I wanted to see exactly where his head was going to be, so I had to take some in order to gain some knowledge," Donaire said. "That's how I did it. I (was able to) know exactly what was going to happen."
Knowing Montiel's head movement, Donaire geared up for the kill in the second round, even as Montiel still looked stiff and tentative. So that when Montiel threw a right that missed, Donaire countered with a vicious left hook that hit Montiel's head.  Montiel went down flat on his back with his legs fluttering and his body quivering as if in a fit of seizure. The Mexican was able to beat the count somehow, but when the referee allowed the fight to continue, Donaire came charging in with another left-right combo which served as the coup de grace for the match. Referee Russell Mora decided he had seen enough, so he stopped the fight at exactly 2 minutes 25 seconds into the second round.
Montiel did not make it to the post-fight press briefing as he was brought to the area hospital for precautionary medical care.
"I just came out there believeing in this talent God has given me…When I hit him with left hook he started twitching. I know (at that point) that the fight was over," Donaire said during the post-fight press briefing.
It was Donaire's 25th consecutive victory in his professional career as against one loss. His only ring setback was when he lost on a close UD to American Rosendo Sanchez in 2001 in a five-round bout in Vallejo, California. It was a close fight that could have gone either way. Sanchez would retire one fight later and The Filipino Flash would not get the opportunity to avenge his lone defeat.
In the undercard featuring Filipino Mark Jason Melligen against Mexican Gabriel "El Rey" Martinez, the Filipino won in a convincing fashion. Melligen (21-2-0, 14KO) carried the fight across scorecards of all three judges, who gave him a 99-91, 99-91 and 98-92 unanimous decision.