(Dec. 13) – North Korea today warned that continued military cooperation between the U.S. and South Korea could result in a nuclear war in the region, as the South began another week-long series of live-fire drills along its coastline.
Accusing Seoul of scheming with America and Japan, North Korea said the alliance "is nothing but treachery escalating the tension between the North and the South and bringing the dark clouds of a nuclear war to hang over the Korean Peninsula," the state-run Rodong Sinmun newspaper said in a commentary, The Associated Press reported.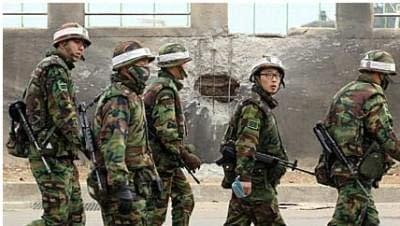 South Korean marines patrol by a wall damaged by North Korea's shelling of Yeonpyeong Island. North Korea said today that continued military cooperation between the U.S. and South Korea could result in a nuclear war.
This isn't the first time that Pyongyang has made such a bellicose threat. It promised a "retaliatory sacred war" over U.S.-South Korean naval exercises in July, pledged to turn Japan into a "nuclear sea of fire" in 2004 and two years later declared it would "mercilessly wipe out" American forces in the event of war.
In the past, such warnings were largely dismissed as empty rhetoric. But following the Nov. 23 artillery bombardment of a South Korean island, which killed two marines and two civilians, many in the South now view the regime's saber-rattling more seriously.
That deadly attack has led to an intensification of diplomatic and military posturing on the peninsula, with the U.S. taking part in joint military exercises with South Korea and Japan, and hosting leaders from both countries in a trilateral meeting last week.
Earlier today, Seoul and Washington launched a new joint committee to counter North Korea's nuclear threats, although exactly how the new body will achieve that aim isn't yet clear. And South Korea also launched artillery exercises at 27 sites around the country, although not near the disputed Western sea border where last month's attack took place.
American officials, including Adm. Mike Mullen, chairman of the Joint Chiefs of Staff, have called on China — the North's main ally and biggest supplier of food and fuel — to rein in Pyongyang. And Deputy Secretary of State James Steinberg is set to visit Beijing on Tuesday to deliver that message again. Although U.S. diplomatic cables released by WikiLeaks suggest that Beijing is growing increasingly frustrated with its unpredictable Communist ally, it has so far refused to publicly condemn the North's actions.
The two countries' cozy relationship was reinforced last week when top Chinese diplomat Dai Bingguo met North Korean leader Kim Jong Il in Pyongyang and reportedly presented him with a gift from Chinese Premier Hu Jintao. China's Xinhua news agency described the meeting as "candid" and said the two men "reached consensus on bilateral relations."
By Theunis Bates