By Priam Nepomuceno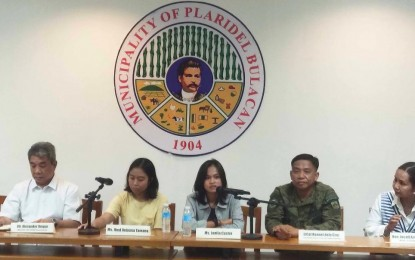 MANILA – The National Task Force to End Local Communist Armed Conflict (NTF-ELCAC) said it was appalled by the claims of two environmentalists who joined its press conference in Plaridel, Bulacan on Tuesday.
"We felt betrayed. The said press conference was organized with only the best of intentions in mind for the said youths and we are extremely grateful to the local government unit of Plaridel under Mayor Jocell Aimee R. Vistan for their generosity and hospitality in facilitating the event," the task force said in a statement.
This came after environmentalists Jhed Reiyana Tamano and Jonila Castro claimed in Tuesday morning's press conference organized by the task force that they were abducted and threatened by soldiers, contrary to reports that they voluntarily surrendered.
The two women were identified as members of the Student Alliance for the Advancement of Nationalism and Democracy, an activist group, and of Akap Ka Manila Bay, an environmental alliance based in Central Luzon that is opposing reclamation activities in Manila Bay.
The NTF-ELCAC added that it stands by the position of the Philippine Army's 70th Infantry Battalion under Lt. Col. Ronnel Dela Cruz on the circumstances surrounding the surrender of Tamano and Castro, which it said was supported by the duo's respective affidavits.
Tamano and Castro, however, refuted the alleged affidavit and said it was utterly false and they were only forced to sign it.
"We also stand by the official report of the Philippine National Police in Bataan province on the case of Ms. Tamano and Ms. Castro and leaves no doubt on the authenticity and integrity of the investigation conducted by them," it added.
The NTF-ELCAC also said whatever caused the two's sudden change of heart is beyond its comprehension.
"Earlier engagements by Task Force officials with the two students regarding the veracity and truthfulness of their affidavits were convincing enough to merit their public appearance. We were hoodwinked," it added.
Despite the incident, the body said it remains steadfast in ensuring the safety of the two and committed to upholding their rights as individuals under any circumstances.
"We leave to the wisdom of the Task Force's legal eagles as to how to proceed from here. Rest assured that the NTF-ELCAC remains committed to continue to tread the path of unity, peace and development at all costs and that Ms. Tamano and Ms. Castro's safety and well-being are of primordial importance," the body concluded. (with reports from Manny Balbin/PNA)