LAS VEGAS – A 20-year nurse practitioner and chair of the Angelman Syndrome Walk-a-Thon 2011 in Las Vegas, is March of Dimes Nurse of the Year for Best Cardiovascular Critical Care category. Her name: Grace Samson.
Grace , 42, works at the Cardiovascular Critical Care Unit of University Medical Center (UMC) in Las Vegas. She was chosen in a field of nearly 2,000 nurses nominated from an array of specialties.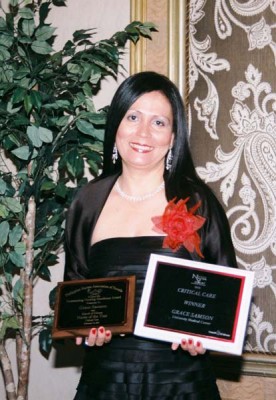 Praised and loved by her patients for her endless empathy, patience and dedication to her patient's health condition, Grace's endless capacity to feel for her patients stems from her own experience with her youngest son, Evan, who was afflicted with the rare Angelman Syndrome.
"Patients are all praises for Grace for her genuine caring for them. She also takes the initiative to learn and explain to her patients the kind of care and procedures they are receiving and why," says one of the doctors who works closely with her.
The March of Dimes selection works this way: A person is nominated by patients, friends, peers, and other health care professionals. Nominees are judged anonymously by a panel of Nursing professionals. In Southern Nevada, only 24 winners, culled from different specialties, were chosen this year.
According to Wikipedia, the March of Dimes was founded by President Franklin Roosevelt in 1938 as a non-profit originally organized to combat polio. Later, it set its focus on improving the health of babies by preventing birth defects and infant mortality.
It is the oldest and one of the most successful not-for-profit foundations in the United States that advocates effectively for women's and children's health by promoting folic acid consumption among women to prevent birth defects, funding research and grants to scientists, and assisting community services and educational projects. It has 90 chapters nationwide.