LAS VEGAS -  "The flu ends with you" might as well be the slogan of the year for the Southern Nevada HealthCare Immunization Coalition as it continues to inform, educate, and provide free immunization against the flu to various  marginalized communities in Las Vegas. Since the onset of the flu season in the Fall of 2010, the Coalition, composed of Philippine Medical Association of Nevada (PMAN), Philippine Nurses Association of Nevada (PNAN), Shots4Tots, and the Center for Disease Control & Prevention (CDC), in coordination with the Southern Nevada Health District (SNDH), have coalesced with volunteers including their own members and private medical practitioners and health care providers.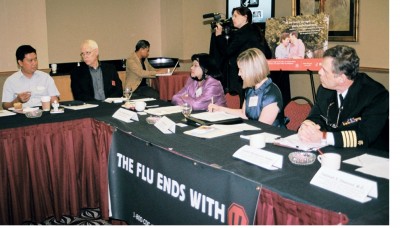 Together they provide free flu shots to several communities in the city. To date, the Coalition has served more than 1,000 underserved members of the community who would have otherwise missed the opportunity to avail of preventive immunization against the flu.
Yearly flu vaccination should begin in September or as soon as vaccine is available and continue throughout the influenza season, into December, January, and beyond. This is because the timing and duration of influenza seasons vary. While influenza outbreaks can happen as early as October, most of the time influenza activity peaks in January or later, according to the CDC.
In September of last year, the Coalition started its information campaign with a press conference attended by Asian American media with the objective of explaining the importance of getting vaccinated, not as treatment but a preventive measure, against the flu. Spearheaded by the New American Media (NAM) with its long-time executive director Sandy Close, the roundtable discussion was graced by Nevada Healthcare Immunization Coalition members Katie Nannini, Capt. Raymond Strikas, US Department of Health and Human Services medical officer, Dr. Fatimah Dawood, a CDC medical epidemiologist, Veronica Morata-Nichols, RN,  SNHD Community Health Nurse manager, and Dr. Benito Calderon, president of Philippine Medical Association of Nevada (PMAN), as resource speakers. Media representatives were able to discuss the prevailing misconceptions and myths surrounding the flu among members of the various ethnic communities.
Among the myths that were debunked included the belief that the flu is a harmless disease, like the simple cold, which is mostly taken for granted by people. For SNHD Community Health Nurse manager Veronica Morata-Nichols, educating the people on the importance of the vaccine is "one of the most difficult challenges in our effort, and how to make them understand that the vaccine is a prevention, not a treatment. People tend to go and see their doctor only when the disease is already upon them, not before they even felt the symptoms," she adds.
On the other hand, PMAN president Dr. Calderon emphasized the language barrier that exists between foreign doctors and ethnic members of the community. He shared that last year, the medical organization launched a campaign called "Pinoy Ba Ang Doktor Mo?" which aimed  s to connect Filipino doctors and other medical practitioners who were educated in the United States with the local Filipino American residents, particularly the geriatric patients, for the simple reason that patients can easily communicate their pains and medical issues with Filipino doctors who speak the language.
"There is nothing more important to a patient than being able to communicate his innermost feelings, his pains and sufferings, which otherwise he would not be able to share or elucidate to a medical practitioner who does not speak the language, or does not understand the culture of the patient he is dealing with," explains Dr. Calderon.
In the case of Filipinos, there is always that unspoken understanding, more oftentimes upclose and personal, between the patient and the doctor. Reason why PMAN president Dr. Ben Calderon worked so hard to establish this communication and connection between Filipino residents of Las Vegas and hundreds of  Filipino healthcare practitioners, who are based in Las Vegas. This, in essence, is one of the PMAN's priorities for its members and the thousands of Filipino residents in the city and surrounding counties.
As part of the information campaign, the CDC has issued a leaflet on the Flu and its Prevention. Its defines the flu and differentiates it from the common cold, and explains how it is spread and how to prevent it. This roundtable discussion centered on how media could help disseminate information to the public on prevention of the spread of flu rather than to treat it.
Every year in the United States, on average 5% to 20% of the population gets the flu. More than 200,000 people are hospitalized from flu-related complications. At worse, about 36,000 people die from flu-related causes. The flu mostly afflicts older people, young children, and people with certain health conditions such as asthma, diabetes, or heart disease, which makes them at high risk for serious flu complications.
Influenza is a contagious respiratory illness caused by influenza ("flu") viruses. It can cause mild to severe illness, and at times can lead to death. Symptoms of flu include fever (usually high), headache, extreme tiredness, dry cough, sore throat, runny or stuffy nose, muscle aches, and stomach symptoms, such as nausea, vomiting, and diarrhea.
The CDC advises that the single best way to prevent the flu is to get a flu vaccination each year.  However, there are two types of vaccines. The "flu shot" is a vaccine that is given with a needle. It is approved for use in people six months of age and older, including healthy people, and people with chronic medical conditions. The other vaccine is the nasal spray flu vaccine, a vaccine approved for use in healthy people two to 49 years of age, and women who are not pregnant.
However, the CDC likewise warns of exceptions. According to the CDC, some people should not be vaccinated without first consulting a physician. They include people who have a severe allergy to chicken eggs, people who have had a severe reaction to an influenza vaccination in the past, people who developed Guillian-Barré syndrome (GBS) within six weeks of getting an influenza vaccine previously; children less than six months of age and people who have a moderate or severe illness with a fever. They should wait to get vaccinated until their symptoms lessen.
In general, people who should get vaccinated each year are children aged six months up to their 19th birthday, pregnant women, people 50 years of age and older, people of any age with certain chronic medical conditions, people who live in nursing homes and other long-term care facilities, people who live with or care for those at high risk for complications from flu, namely health care workers, household contacts of persons at high risk for complications from the flu, and out-of- home caregivers of children less than six months of age.
A simple flu can develop into something serious, if not taken cared of early. More serious complications of the flu include bacterial pneumonia, ear infections, sinus infections, dehydration, and worsening of chronic medical conditions, such as congestive heart failure, asthma, or diabetes.
Flu viruses are thought to spread mainly from person to person through coughing or sneezing of people with the flu. Sometimes people may become infected by touching something with flu viruses on it and then touching their mouth or nose. Most healthy adults may be able to infect others as early as one day before symptoms develop and up to five days after becoming sick. That means that you may be able to pass on the flu to someone else before you know you are sick, as well as while you are sick.
Flu can also be prevented by observing good health habits as basic as covering the mouth and nose when you sneeze with a tissue, or if not available, by sneezing into the upper sleeve of your shirt/dress instead of your hands. dispose of the tissue prroperly into the waste basket. The simple basic regular washing of hands is an effective prevention from germs, especially if washed with soap and warm water. Alcohol-based hand cleaner works just as good. Also avoid touching the eyes, nose or mouth as germs are often spread when a person touches something that is contaminated, like a doorknob, and then touches his or her eyes, nose, or mouth. And more importantly, practice other good health habits such as getting plenty of sleep, exercise, drink plenty of fluids, eat nutritious food (avoid junk foods), and most of all, learn to manage stress at home or at work. (Zen S. Laluna)