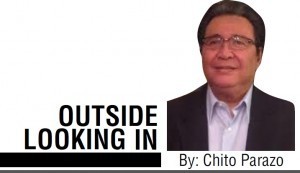 President Obama's planned immigration overhaul will benefit thousands of Filipinos staying without proper documentation here in the United States, most of them living here in California.
Immigration records have stated that there are roughly about 2.6 million undocumented immigrants residing in the State of California, including thousands of Filipinos. These undocumented immigrants have been found out to have lived in California for at least 10 years.
The proposed plan, according to immigration advocates, could bring some legal status to thousands of Filipinos working without legal papers here in California, most of them in restaurants, nursing homes and board and care facilities for the elderly.
Some Filipinos who have been here for a number of years but were unable to change their immigration status were so elated about the prospect of finally achieving their "American dream" come true.
They said that if what they have been hoping pushes through, it would be an early Christmas present for all of them and hopefully they can be reunited with their loved ones back home. It was reported in the news that these undocumented immigrants are likely to be given work permits, while those on deportation proceedings will probably be granted a temporary stay, if they have lived in the US for at least five to 10 years.
If the proposed plan becomes a reality despite strong objections from the Republican-dominated Congress, it would surely help any democratic presidential candidate to win the national elections in less than two years.
Speaking of elections…I see no more reason for the Philippine Senate Blue Ribbon sub-committee to continue its current probe regarding allegations of corruption against Vice President Jejomar Binay and his family. Senators Koko Pimentel, Alan Cayetano and Antonio Trillanes have been successful in disfiguring the once perfect political image of Binay, who many thought would be the runaway winner in our own 2016 presidential elections.
It is now up to the Office of the Ombudsman to take over. Plunder and graft charges have already been filed against Binay, his son "Jun-Jun", the current Makati mayor, and other former city officials. The Ombudsman should now look and start dissecting the evidence against the vice president and his son to find out if there are sufficient grounds for them to be tried in court.
Senator Mirriam Defensor Santiago last week said the Senate Blue Ribbon sub-committee has already gathered enough evidence against Binay and his family that it could wrap up its inquiry and forward its recommendations to the Office of the Ombudsman. Binay has been accused by his former vice mayor and best friend of involvement in the alleged overpriced Makati carpark building, bid rigging and receiving "grease" money for every transaction the city government entered into during his incumbency.
Binay, who refused to appear before the Senate for him to refute all the charges leveled against him, denied any wrongdoing during a press conference he held a month at the PICC. He claimed that his accusers have not presented sufficient evidence during the course of the Senate hearing that would stand in court.
A lot of Filipinos that I was able to talk with were dismayed by the vice president's reluctance to face his accusers in the Senate. "Akala ko pa naman eh Boy' Scout laging handa, eh hindi pala. Duwag pala." If Binay thinks that the public will forget about all the charges leveled against him, he is wrong. I don't think the voters can still be swayed to vote for someone who was able to amass much wealth in so short a time.
Meanwhile, I find Senate President Franklin Drilon's recent statement regarding President Noynoy's  request to stop the Senate probe on Binay ludicrous. He said when President Noynoy called him to relay the request of Binay to stop the senate investigation, Drilon reportedly told Aquino "Sir, you were part of the Senate once, you know nobody can dictate to the senators what to do."
I find this laughable and amusing. I doubt if Drilon, known for being a good "ass licker" and a sycophant, will have the balls to talk to Noynoy they way he claimed. I can just imagine that all he did was to say "Yes sir, yes sir. I will tell them to stop."
This guy has no balls. He is nothing but a crying baby and a bully. Remember that incident at the San Francisco International airport in 2002 where he was asked to remove his shoes as part of strict security measures? He tried to bully the person manning the x-ray machine, stating that he was the third highest ranking official in the Philippines and is traveling with a diplomatic passport. The American security personnel stood his ground, though, and insisted that he remove his shoes or he will not be allowed to board his plane bound for Manila. The Incident happened in full view of so many people, most of them Filipinos. Defeated and humiliated, he had no other choice but to comply. Some said the security officer was upset by Drilon's condescending attitude that he also asked Drilon to remove even his socks. I, however, do not know if this was true.
This is the reason why I doubt if the ongoing Senate inquiry over allegations of overpriced in the ongoing construction of the Iloilo Convention Center(ICC) will proceed. The ICC is the pet project of Drilon. It was funded through his DAP and PDAF allocation. But I admire the courage of Senator Serge Osmeña, who said that a senate inquiry regarding the ICC controversy should continue to dispel public rumors that there was selective justice being handed down to people who are "persona non grata" to Malacañang.
Senators should look closely on the manner on how they came with a negotiated contract instead of going through public bidding. Surprisingly, the contractor doing the construction of the ICC was the same construction company who did the overpriced Makati carpark building. The name is Hilmarc's Construction company.
Senators are also looking into the cost escalations of the project, which went from P300 million to P450million to P700 million and now to P1 billion based on the speeches made by Drilon. What is even puzzling is the fact that construction of the building has been going on despite the fact that the land title has not yet been transferred to the government. But Drilon has an "explanation" to that, when told his fellow senators during a hearing that the donor, Megaworld, is now ready to convey the title of the property as it is only completing minor legal details for the transfer.
For sure, once the Senate Blue Ribbon sub-committee terminates the Binay probe, the ICC investigation will also end, if it hasn't already.