By Priam Nepomuceno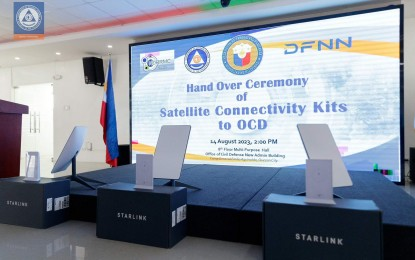 MANILA – The emergency communications capability of the National Disaster Risk Reduction and Management Council (NDRRMC) got a much-needed boost following the donation of 20 portable satellite communication kits by publicly listed company Diversified Financial Network Inc. (DFNN, Inc.) to the Office of Civil Defense (OCD) on Monday.
Defense Secretary and NDRRMC chairperson Gilbert Teodoro Jr., OCD administrator Undersecretary Ariel Nepomuceno and DFNN Inc. chairperson Ramon Garcia Jr. witnessed the turnover of these satellite communications kits at the OCD main building in Camp Aguinaldo, Quezon City.
"The donated equipment, SpaceX Starlink kits, will support the emergency communications capability of the NDRRMC using the latest satellite technology capable of operating in rural and remote areas," the OCD said in a statement late Monday.
It added that these portable satellite communication kits are low maintenance devices with low operational cost, easily deployable due to their mobility and portability design and can be operated by a single person.
The Starlink kits can deliver high-speed internet to support virtual conferences, video calls, among others.
Nepomuceno, meanwhile, said these donated items are very important as a reliable and resilient communication system is a critical component of humanitarian assistance and disaster response operations.
"We welcome this donation as another boost in our effort to strengthen the communications capability of OCD, our counterpart DRRM councils and local governments using redundant communication systems across the archipelago," he added.
A demonstration of the equipment capability was also done by the joint team of OCD's Information and Communications Technology Division and DFNN Inc.'s technical staff.
Meanwhile, Teodoro hailed DFNN Inc.'s donation and said this will beef up OCD's capability to prepare and respond to disasters.
"We thank Mr. Garcia and our friends from DFNN for this generous gesture of solidarity to our cause to strengthen our ability to prepare and respond to disasters," he added.
Teodoro also explained President Ferdinand R. Marcos Jr.'s push for a vigorous effort to make the country's disaster response system a more robust component of the national DRRM endeavor, able to ensure speedy, appropriate, and adequate response in times of emergency.
Meanwhile, Garcia reiterated their organization's commitment to support the continuous strengthening of the Philippines' disaster management system.
"By providing Starlink connectivity to critical government functions, particularly in disaster risk reduction, we are taking a step toward the future where communication is never compromised, even in the face of nature's most challenging moments," he added.
The OCD, the implementing arm and secretariat of the NDRRMC, also provides emergency communications support to disaster-stricken local government units and localities as part of its repertoire of emergency management functions.
"This aligns perfectly with the government's vision of creating a leading digital infrastructure that is both sustainable and globally scalable. Our contribution to this noble cause is not just about technology; it's about people, progress, and the resilience of our nation," Garcia emphasized.
DFNN, Inc. is a publicly listed company on the Philippine Stock Exchange. It has operated as a leading I.T. solutions provider and systems integrator, enabling its clients to compete in an increasingly technology dependent environment since its establishment in 1999. (PNA)