By Marita Moaje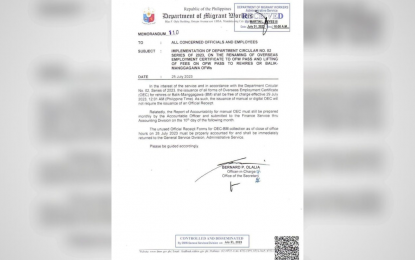 MANILA – The Department of Migrant Workers (DMW) announced on Tuesday that Overseas Employment Certificate (OEC) for rehires, in all its form, shall now be issued for free.
"Starting 29 July 2023, the issuance of all forms of Overseas Employment Certificate (OEC) for rehires or Balik-Manggagawa (BM) shall be free of charge and will not require issuance of an Official Receipt," the DMW said in a post on its Facebook page.
The agency, in Memorandum 110 dated July 25, 2023, said the free of charge issuance of OEC to rehires is based on the implementation of Department Circular 02 that renamed OEC to OFW Pass and lifted the fees for its issuance.
In a separate Facebook post, the DMW said pilot test runs both for the OFW Pass and the agency's mobile app are on-going.
"Bagamat maida-download na ang mobile app, ito ay hindi pa fully operational at dumadaan pa rin sa mga pagbabago at technical improvements (While the mobile app may now be downloaded, it is not yet fully operational and is still undergoing changes and technical improvements)," it said.
The DMW said aside from the Philippines, the mobile app pilot test run is also being implemented in Kingdom of Saudi Arabia (KSA), United Arab Emirates (UAE), Singapore (SG), Hongkong (HK), Malaysia (MY), Qatar, Oman, Taiwan, Japan, and the United Kingdom (UK).
However, the DMW also advised those who wish to participate in the pilot test run to have patience and to expect delays in server response time due to the high number of people accessing the digital platforms.
It also encouraged OFWs to send their feedback and suggestions during the pilot test run phase.
Feedback and suggestions may be sent to ofwpass@dmw.gov.ph; the agency's Facebook page and FB Messenger: https://www.facebook.com/dmw.gov.ph; WhatsApp; and Viber, call, and SMS to +63 908-326-8344, +63 927-147-8186, +63