Grammy-winning and fashion-forward artist Cee Lo Green has picked Filipino fashion designer Oliver Tolentino to create outfits for his latest music video "I Want You" off The Lady Killer album, which has sold almost 300,000 copies in the U.S.
Cee Lo had the biggest hit this year with the song popularly known as "Forget You," and has become known as the male fashion version of Lady Gaga ever since his days as half of Gnarls Barkley. He most recently performed at the Grammys in an outrageous outfit with Gwyneth Paltrow standing on his piano.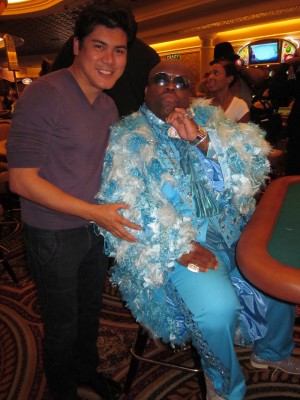 Oliver first met with the video director at his Melrose Avenue boutique and then was taken to the set of NBC TV show "The Voice" to meet the singer. Cee Lo is a judge on the show which debuts this week. Other judges are Christina Aguilera, Adam Levine, and Blake Shelton. Backstage Oliver presented his ideas and won Cee Lo's approval.
Oliver created 2 dramatic outfits for Cee Lo and all the dresses for the video's "princess," model Ivey Mansel. Cee Lo's first outfit is a robin egg blue suit embellished with embroidery and Swarovski crystals. It features a "furry" overcoat made of Philippine raw silk cocoon.
Cee Lo's second outfit is a bright red suit embellished with gold embroidery, beads, and Swarovski crystals. It features a Liberace-inspired cape of peacock fabric and gold embroidery.
The video was shot Easter weekend in Las Vegas at Caesars Palace with Oliver on the set to ensure everything went smoothly. The video airdate hasn't been announced yet.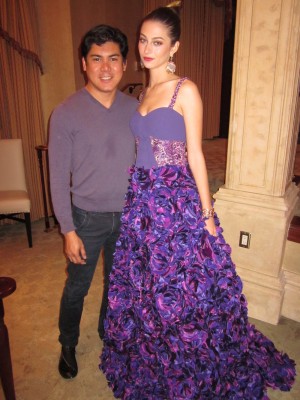 Oliver has dressed many Hollywood celebrities, including attendees at this year's Oscars, Golden Globes, and Grammys. He already has dressed 3 Grammy winners, 1 Emmy winner, an Image Award winner, and has been worn on national TV in the U.S.
Last month, Oliver received a standing ovation as "Designer of the Week" at Fashion Week El Paseo in Palm Springs before 600+ attendees. In May, he will represent the Philippines in Hong Kong with a gown made of recyclable materials. Also in May, the director and star of "Busong" will wear his barongs at the Cannes Film Festival.
Oliver will be based out of his Makati boutique for the month of May in order to attend several press events in Asia. For more information, please visit: www.OliverTolentino.com or "like" his Facebook page (profile pic features pina gown).