By Antoinette Bueno
Another Filipino is taking over our television screens. Though he was recently eliminated on TLC's "Cake Boss: Next Great Baker," Fil-Am Gregory "Greggy" Soriano clearly won over millions of viewers with his endearing and "fabulous" personality – not to mention his killer fashion sense and awesome Broadway singing/rapping abilities.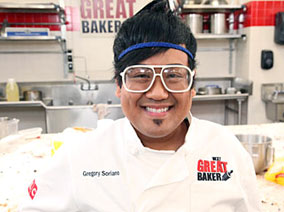 The 26-year-old Soriano, who grew up in Glendora but moved to Jersey City, got his start in cake decorating when he was just in middle school. He started taking classes at a local cake decorating store and the rest as they say, is history. His natural ability and artistic sensibilities landed him the head cake decorator position at a popular New York bakery, when his friends encouraged him to audition for TLC's newest cooking show, a spinoff of the top rated "Cake Boss" following famous baker Buddy Valastro. "Cake Boss: Next Great Baker" features 10 pastry chefs competing to win $50,000 cash and a chance to work side-by-side with the legendary Valastro.
"I just thought, why not, I have nothing to lose," Soriano says.
"It turned out to be one of the best experiences of my life."
Soriano quickly gained fans with his unique, intricate cake designs, dubbing himself "the Lady Gaga of cakes."
"My cake decorating is very avant-garde," he tells Balita Media.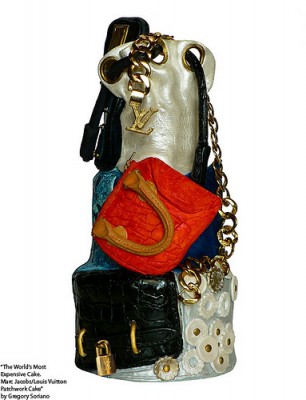 "I'm inspired by so many things. I have tons of pictures on my Blackberry of random things like shower curtains, pillows, canvases, you name it.
I just really love beautiful things."
Aside from making awe-inspiring, breathtaking cakes, Soriano won over viewers with his larger than life personality. Clearly, he's not afraid to be his fabulous self.
"I'm proud of what I see up there when I look on the screen," Soriano says when asked about being a fan favorite.
"It took me a long time to grow and really be comfortable in my own skin.
I hope people look at me and are just inspired to be themselves. It's been absolutely crazy, but it's cool."
And yes, nobody knows this more than Soriano, who is openly gay, refers to himself as "gaysian" and plays up his quirky sense of style. Viewers especially loved his white framed glasses, which became a trademark perfectly suiting the bubbly baker.
"They're Diesel!," laughs Soriano.
"They're prescription glasses and I've been wearing it for years."
His love of fashion also clearly influences his cake decorating, which he describes as being not just avant-garde, but "high end couture".
"My favorite cake I've done had to be the Marc Jacobs Louis Vuitton tribute cake," he shares.
"I also really like the Barbie cake – it looks like something Barbie herself would have in her Malibu dream house," he laughs.
Soriano's cakes are extremely labor intensive, taking anywhere from four days to an entire week to complete. His favorite flavor of cake is "anything chocolate hazelnut," but he shares with Balita Media that he has also made delicious Filipino flavored cakes.
"I've made an Ube Trifle cake, an Ube Halaya cake and even a Halo-Halo cake," he says.
"It's sooo good, like, hug-your-baby-daddy-good!," Soriano says in one of his many colorful phrases.
So what's next for the incredible baker?
Though he didn't end up winning "Cake Boss: Next Great Baker", he has no regrets.
"It was the absolute most fun I've ever had."
"I got to make lifelong, amazing friends even though it was pretty stressful competing with them," he laughs.
Soriano plans to open up his own cake shop in downtown Jersey City this year, an urban cake boutique called "Cake Lush". The fun, no doubt adorable store will feature cake slices ranging from $9-$15 as well as cake related toys.
"It will be boutique style," Soriano explains.
"It will be a place where you can stop and grab a bite to eat, and just enjoy yourself."
He's also busy developing his own brand, creating cake products for stay-at-home moms that will sell in craft stores.
And on top of all of this, Soriano is also looking into having his very own show.
"I can't really talk about it but cross your fingers!," Soriano says excitedly.
But through all his television success, Soriano never forgets his Filipino roots as well as his millions of Filipino fans who supported him every week.
"I'm uber proud to be Filipino," Soriano says sincerely.
"I hope I'm representing you well, and making you all proud."