By Antoinette Bueno
Balita Media News Service
There is perhaps no bigger Filipino celebrity in Hollywood than 22-year old Vanessa Hudgens. Having exploded onto the mainstream with her charming performance as brainiac beauty Gabriella Montez in the Disney smash "High School Musical", Hudgens has proved more than capable of extending her celebrity past the hugely popular film and its two successful sequels.
She is a full blown star, incessantly hounded by the paparazzi and constantly gossiped about by the most popular of entertainment sources. From Perez Hilton (who envied her for her long time relationship with now ex-boyfriend Zac Efron) to TMZ and E!, it seems people can't get enough of the petite starlet.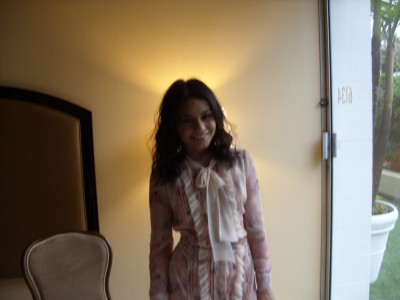 But though she is indisputably famous, it is also clear that Hudgens is now struggling with that point in her career where she wants to be known more for her body of professional work than her personal life. Though singing and dancing comes naturally to Hudgens (she got her start in musical theater when she was just eight years old and even played Mimi in Neil Patrick Harris's "Rent"), it is now her time to challenge herself with roles more outside of her own persona.
To put it bluntly, it is now the time for people to start taking her seriously as a mature actress.
Enter director Zack Snyder's "Sucker Punch."
An epic action fantasy set around a mental institution for women in the 60s and focusing on the lengths to which a group of girls will go to set themselves free, Hudgens plays "Blondie", easily the darkest, most intense character that she has ever played.
However, according to Hudgens, she didn't purposely take on the role of Blondie just for the sake of it being a more mature character, marking a complete departure from her previous girl next door roles.
"It wasn't really a conscious decision so much as I wanted to work with Zack Snyder [director and co-writer of "Sucker Punch"]," Hudgens tells Balita Media during a one-on-one interview at the Beverly Hilton Hotel in Beverly Hills.
"He's amazing.
"And just the fact that this is an all girl kick-ass action flick that deals with sub-realities and has creatures, I was like, I'm so in – I don't even care what character I play," she says.
And perhaps true to Snyder's directing style, the entire mood of "Sucker Punch" is noir and almost predatory, showing the human monsters that try to take advantage of Babydoll (the main character played by Emily Browning) and her crew of girls all fighting to overcome extreme adversity. The unique story blends the lines between what the viewer knows to be real and what's fantasy, allowing for breathtaking fantastical action sequences that know no boundaries of time and space. The film is visually arresting, and obviously designed for a big screen viewing – but you wouldn't expect any less from the director of such films as "300" and "Watchmen".
But what makes "Sucker Punch" unique is the fact that it is a group of women doing all of the action, a definite draw for the extremely fit Hudgens, who even serves as the cover girl for next month's Shape magazine rocking a pink bikini. In the fitness magazine, she shows off a particularly defined set of abs that's already got the media talking.
But even the already in shape Hudgens felt the intense strain of training for the film, which required hours of martial arts training, strength training and also fight and weapons training, not to mention functional training, calisthenics, weights, body-weight pull ups and push ups, jumping on and off boxes, pulling tires, dragging ropes and kettlebells and more, all supervised by former Navy Seal David Young – all in one day.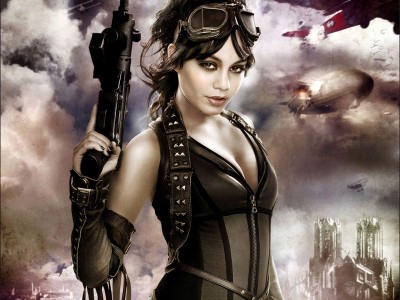 "There's a lot of sweat and tears poured into this movie…my first day of training I was brought to tears," she recalls.
"But Jena [her co-star in "Sucker Punch"] called out to me 'You got it V!', and ever since then I kept hearing her voice, and hearing the girls' voices cheer you on, it lets you know that you're not alone, and allows you to really push yourself and gives you the strength to keep going.
"A lot of it was the diet as well," Hudgens admits of her enviable physique in the film.
"Our trainers made sure that we were putting fuel in our bodies – you want to put diesel into your gas tank so you can keep on running and have the stamina to last throughout the day.
"I mean, if we were eating junk food we'd like crash and die," she jokes.
But in the end, the intense training was well worth it, putting Hudgens in the best shape of her life.
"For me, the entire shoot was about six months…but even after six months, I didn't want it to end," she smiles.
The grueling training also served a dual purpose – besides building the stamina and endurance necessary for the difficult action sequences, it also brought the five co-stars together.
"I would take a bullet for any of these girls," Hudgens says bluntly.
"I adore them, and I always will I think for the rest of my life. It's really rare that you meet somebody in the most raw version of yourself and it's almost animalistic, working out together and just pushing yourself further than what you think is physically possible.
"When you do that that with somebody, and you accomplish something great with someone, you can't help but have this amazing bond that doesn't deal with exterior beauty – it deals with the inner strength and the inner confidence that we have as women."
Indeed the chemistry between Hudgens, Browning, Abbie Cornish ("Sweet Pea"), Jena Malone ("Rocket") and Jamie Chung ("Amber") is obvious throughout "Sucker Punch", as they stick together to fight everything from gargantuan samurai beasts to reanimated zombie soldiers to fire-breathing dragons – all in otherworldly places that can only possibly exist in one's vast imagination.
According to Hudgens, it is this power of imagination and realizing just what exactly the mind is capable of that is one of the very messages of "Sucker Punch".
"There's several different themes, but when I left the movie theater the first time I watched it, I felt empowered to do anything. We don't give the mind enough credit and realize how strong it actually is," she explains.
"It just really shows that if you set your mind to something, it can go to extraordinary places."

Hudgens on being Filipino
It is this can-do attitude, confidence and resilience that Hudgens possesses that has helped catapult her into the star that she is today, as much as it is due to her exotic looks.
Hudgens is clearly of mixed cultural background. Her mother, a native of Manila, is of Chinese-Filipino-Spanish descent and her father is Irish, French and Native American.
Though she has never been to the Philippines before, she tells Balita Media that this is definitely not due to a lack of desire, especially having heard so much about the country from her mother.
"My mother hasn't been back to the Philippines in 25 years, ever since she met my father," Hudgens shares, "so she's long overdue for a trip."
"But she talks about it all the time and how much she misses it."
She is definitely no stranger to Filipino culture, especially when it comes to eating some of the Philippines' most famous cuisine.
"Adobo and rice, I can live off of that," Hudgens deadpans.
She also has a deep admiration for the warmth and hospitality that Filipinos are well known for.
"Filipinos' laughter – I think it's a very contagious outburst of laughter," Hudgens laughs when asked about what she enjoys most about her Filipino culture.
"When you put a bunch of Filipinos in a room together you can barely hear yourself think," she smiles.
However, her mixed cultural background didn't always make it easy for her to break into Hollywood, where the typical blond hair, blue-eyed all American girl look still reigns supreme.
"It definitely had its downsides every now and then because nobody could figure out what I was," she recalls.
"You're not Latina enough, you're not Caucasian enough, you're not Asian enough, and I got to the point where I was just like 'oh my gosh this is ridiculous.'"
She even felt her ethnicity would hold her back when she auditioned for "High School Musical", the film that would ultimately give her her big break.
"When I first read the script it said 'Martinez' [referring to the last name of her character Gabriella]," Hudgens enunciates in a heavy Spanish accent, so I thought, well that's not going to happen, I'm not Latina enough," she remembers.
But of course, it did.
"Thankfully they looked past that. But that's also the great thing about being multicultural, if you do have all of these different bloodlines and really are all of these different things," she says.
But perhaps it is telling how far Hudgens has come from her Disney "High School Musical" days, as she now struggles to even remember the last name of the role that made her famous.
"What is it, Martinez…Montez?" she laughs. [For the record, the last name is Montez.]
There is in fact a very relaxed, bohemian vibe to Hudgens that shines through in person. Despite her movie star presence, she seems entirely comfortable with herself and at ease even in such a stale environment as a hotel press junket, where she would no doubt have to do interview after interview, answering the same types of questions over and over again in a tiny room.
But despite the monotony of the circumstances, and even in light of her recent naked photo scandal that now has the FBI involved [according to reports, a hacker ring has targeted A-list celebrities such as Hudgens and fellow Disney star Miley Cyrus, hacking into their personal email addresses and stealing personal photos and information], her smile is genuine, and she is even barefoot aside from a pair of cream colored fishnet stockings. She is in the middle of spontaneous singing as I walk into her hotel room, completely oblivious as well as comfortable in the presence of a handful of PR handlers and Warner Brothers executives.
She smiles as she hears that this interview is for a Filipino newspaper, well aware of her heritage and thankful to her many Filipino fans who have continued to embrace her, as has the Hollywood industry as a whole and audiences around the world who fell in love with her after her breakthrough role in 2006's "High School Musical."
"Salamat po for being such amazing fans," Vanessa says to all of her Filipino supporters.
"…and I hope that they enjoy 'Sucker Punch'."