By Marita Moaje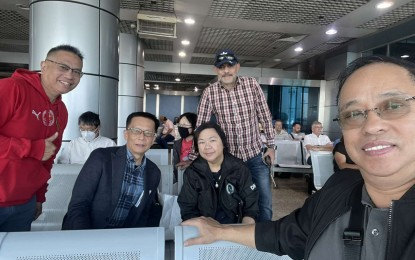 MANILA – Department of Migrant Workers (DMW) Secretary Susan Ople is urging all overseas Filipino workers (OFWs) fleeing war-torn Sudan to keep their "bayanihan spirit" alive amid the challenges they encounter on their way to the Egyptian border.
In an interview over a radio program on Thursday, Ople said as the number of people trying to escape Sudan increases, security protocols at the Egyptian borders have also tightened.
She advised OFWs who have grouped themselves to escape Sudan on their own to get in touch with the Philippine Embassy in Cairo and give updates of their location.
She, however, noted that there are those who are alone, especially those who were left by their employers to fend for themselves.
"To give credit to our OFWs, they have been contacting the embassy and they have been telling them na, 'Pasakay na kami ng bus,' and sometimes kukuha sila ng litrato, ipapadala rin, and sasabihin nila, 'Andito na kami,' so nata-track naman sila ng embassy. Ngayon, may mga ilan na iniwan ng amo, yung paisa-isa ('We are now boarding the bus,' and sometimes they would take a picture and send them saying, 'We're already at this place,' so the embassy was able to track them down. [But] there are those who were left behind by their employers)," Ople said.
She encouraged Filipinos to help one another through the group chat that has been created.
"Dahil may group chat kami, yung kapwa Filipino, inaaya 'yon na pumasok sa group chat so, bayanihan spirit na ito. Nakakausap ko rin yung mga nasa bus. Sabi ko, i-rasyon niyo yung inyong supply. Kapag may nakita kayong pwede bilhan ng tubig and safe naman, bumili na kayo, kahit mga biscuit kasi pagdating niyo sa border, hindi pa rin natin matitiyak kung gaano kabilis at kabagal ang pag-process ng papers for our workers to cross over (Because we have a group chat, our fellow Filipinos invite others to join that group chat. I was also in touch with some of those who were in the bus. I told them to share their supplies with others, to buy water or biscuits if they happen to see a store, so long as it is safe, because when they reach the border, we are not sure how fast the processing would be for them to be able to cross over)," Ople added.
She explained that the Philippine government already had a previous arrangement with the Egyptian government regarding Filipinos who will cross the border.
However, Ople said that maybe due to the increase in the number of people arriving at the border, the security was tightened.
"May arrangement na with the Egyptian Government (pero) biglang naghigpit and I think because nakita nila na ang dami na, iba't-ibang lahi. It's not just a matter of issuing travel documents sa mga walang passport na mga Pilipino (We have an arrangement with the Egyptian government, but suddenly they tightened their security. I think because they saw that many are coming who are of different nationalities. It is not only a matter of issuing travel documents for those who do not have their passports), it's also obtaining security passes so they can cross through the Egyptian border," she said.
She said the Egyptian government has assured passage to OFWs who are on the list, which has a note verbale addressed to the central government.
With the tightening of security at the border, Ople called on OFWs to be patient as the waiting time for them to be processed might take much longer than expected.
"Based on our conversation with (Philippine Ambassador to Cairo Ezzedin) Tago, he said he doesn't see that they will be rejected or they will be sent back because that's the fear of some OFWs. It's really just the time, the time involved with the increased number of those wanting to cross the border and I'm pretty sure their border control (was) overwhelmed since this is the second week and we're heading to third week, and because there is a ceasefire, you can just imagine how many buses are there," she said.
For now, Ople said, their urgent mission is to look after the welfare of Filipinos who have reached the border.
"Pagtawid nila ng Egyptian side, kami na yung bahala sa transportation, accommodation, pagkain nila, yung kailangan ipagamot. Yun ang sine-set up namin, kaya papunta kaming Aswan today (When they cross to the Egyptian side, we will take care of their transportation, accommodation, food, and medical treatment. That's what we're setting up, so we're going to Aswan today)," she said.
Ople said the number of Filipinos who have already sent their personal information to the embassy has reached 777.
Of the figure, nearly 400 are seeking assistance, while others have expressed their intention to stay, requesting help for them to be relocated.
As of 2 p.m. (Manila time), Ople together with the DMW team was set to fly to Aswan, Egypt to set up a welfare desk. (PNA)