By Joyce Ann L. Rocamora and Marita Moaje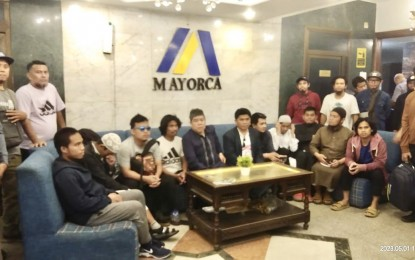 MANILA – Thirty-three more Filipinos from violence-stricken Sudan are bound for Manila as part of the more than 100 repatriates expected to arrive within the week, the Department of Foreign Affairs (DFA) said Tuesday.
The 33 persons will arrive in the Philippines on May 2, DFA Undersecretary Eduardo Jose de Vega said.
The DFA will also receive at least 24 on the next day and some 100 by the end of the week — all under government-funded repatriation.
As of this posting, the DFA has authorized the use of over USD900,000 or at least PHP49.7 million for its evacuation and repatriation efforts since conflict broke out in the North African state.
"We will be repatriating over 500 in this process," De Vega said in a text message.
There are at least 104 Filipinos still at the Egyptian border and around 100 in Sudan.
But De Vega assured that the DFA would do its best to facilitate their safe passage as soon as possible, adding that the DFA's Assistance-to-Nationals fund is sufficient to bring out the remaining Filipinos who want to return to the Philippines.
Sudan braces for more violence as fighting erupts amid an extended truce between warring Sudanese Armed Forces (SAF) and the paramilitary Rapid Support Forces (RSF).
The bloodshed began after tensions between Sudan's de-facto leader SAF General Abdel Fattah al-Burhan and his deputy Mohamed Hamdan Dagalo, who leads the RSF, led to armed clashes in the capital Khartoum on April 15.
Data from the United Nations showed that at least 457 people have been killed and more than 4,000 injured since the fighting began.
The actual death toll, however, is expected to be much higher as access has not been possible to many locations and current figures include only deaths reported to health facilities, the UN Office for the Coordination of Humanitarian Affairs said.
Chartered flight eyed for 292 more evacuees
The Department of Migrant Workers (DMW), in a press release on Tuesday, said the arriving OFWs are grouped into two and will depart Cairo, Egypt on Wednesday via Saudia Airlines.
"The two groups would be composed of 80 and 72 OFWs, respectively. They belong to the 340 OFWs that were assisted by the Department of Foreign Affairs (DFA) and the Philippine Embassy in Cairo (PE-Cairo) in crossing over from the Sudan Port into the Argeen Land Port Authority in Aswan, Egypt," the press release read.
DMW Secretary Susan Ople said that Overseas Workers Welfare Administrator (OWWA) Arnell Ignacio will be joining one of the groups on the flight home.
"Our DMW and OWWA teams continue to look after our distressed OFWs as part of our commitment to bring them home in close coordination, of course, with the DFA," Ople said.
OWWA is an attached agency of the DMW.
Meanwhile, the DMW is also negotiating with Philippine Airlines for a chartered flight in bringing the remaining 188 OFWs and another 104 OFWs that are expected to arrive in Cairo this week after successfully clearing the Egyptian border.
Ople said that PAL has a partnership with EGYPTAIR that would enable it to come up with flight arrangements from Cairo to Dubai and onward to Manila.
"Bayanihan spirit na ang umiiral dito (Bayanihan spirit exists here). We, including the private sector, are all part of one team. 'Yan ang bilin ng ating Pangulo (That is the order of our President). What truly matters is that our OFWs will be safely home soon," Ople said.
She also assured that the DMW together with OWWA is committed to bringing as many OFWs home so that the process of healing from the trauma of Sudan's civil war can commence. (PNA)