By Ruth Abbey Gita-Carlos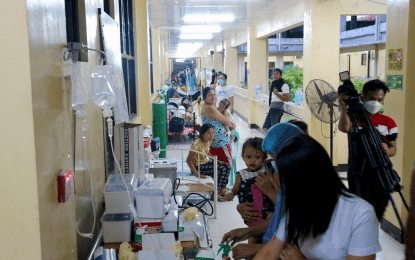 MANILA – Around PHP49.75 billion would be allotted for the operational costs of some 68 Department of Health (DOH) – run regional hospitals and other health facilities nationwide, the Department of Budget and Management (DBM) said Thursday.
In a statement, the DBM said the budget is included in the proposed 2024 National Expenditure Program (NEP), and is higher by PHP1.31 billion from the PHP48.44 billion allocated in 2023.
The DBM said the increase was mainly due to adjustments made in the Normative Financing of DOH hospitals, including funds needed for expanding Specialty Centers.
It said the proposed budget allocation would be distributed among 68 hospitals across various regions including National Capital Region, and Regions 1 (Ilocos Region) to 13 (Caraga).
DBM Secretary Amenah Pangandaman said the proposed allocation signifies the government's commitment to augmenting the capabilities of primary healthcare facilities, securing the well-being of Filipino families and warding off potential future health crises.
"The allocation is part of the government's efforts to strengthen primary healthcare facilities in the country, ensure the health of Filipino families, and to avoid another health crisis," Pangandaman said.
On Wednesday, the DBM said about PHP22.98 billion would also be included in the 2024 NEP for the improvement of the country's health facilities and services in 2024.
The amount would be allocated under the DOH's Health Facilities Enhancement Program (HFEP).
The PHP22.98 billion budget for HFEP would be used for the construction, rehabilitation and upgrading of health facilities, rural health units and polyclinics, as well as the purchase of medical equipment and transport vehicles.
The Marcos government is refocusing its health priorities on ensuring reliable and accessible quality public health services for all.
Under the 2024 NEP, the government seeks to expand access to quality health services by subsidizing the health premiums of the vulnerable sector through the National Health Insurance Program (PhilHealth) with PHP101.51 billion, and by covering the medical assistance of 1.31 million indigent and financially incapacitated patients with PHP22.26 billion. (PNA)