Filipino boxing superstar Manny Pacquiao obliges a photo op with M.O.T.H.E.R. (Movement to Help Eradicate Rape & Other Child Abuses) group headed by Perla S. Reyes, Founder and Executive Director, and the team at the champ's Palazzo condo in Beverly Hills.
There was rapport among his handlers, friends, security force, and townmates. It was one special event, and Balita Media was there to cover the event for Romy Borje's expanded community coverage.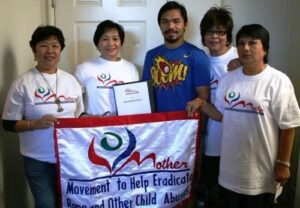 Said Romy: "I was impressed by the demeanor of the neophyte politico, the real Pacquiao, the poor kid who beat the odds to become one of the legendary prizefighters of the modern times." Now a congressman representing the lone district of Saranggani in Southern Mindanao, Pacquiao is being asked by M.O.T.H.E.R. to sponsor a bill that will give teeth to its advocacy on child abuse.
PHOTO: ROMY BORJE