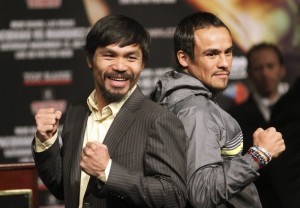 By DAVID CASUCO
LOS ANGELES – The first time Manny Pacquiao and Juan Manuel Marquez met inside the ring, I had it on my score card 114-112 for the Pacman. In my blow by blow notes, I had both fighters winning six rounds each, but Marquez got a seven in the first round when he went down three times. However, the official result said it was a draw.
In the second collision, I had Marquez winning seven rounds to Pacquiao five. And even if I gave the Mexican an 8when he got knocked down in the sixth, the figures in my score card were very clear – Marquez won: 114-113. Of course, we know it wasn't so, because two of the three judges of the match gave Pacquiao the split decision victory.
After that, I stopped doing my round by round scoring whenever I do the Pacquiao boxing coverage. I got frustrated that my scoring was not in sync with the official verdict. Since I am writing for a twice-a-week newspaper, I shifted the focus of my stories to the interesting sidelights surrounding the Pacquiao fight, like the presence of junketeers from the Philippine government, the photo-op freaks that couldn't get enough basking under the reflected glory of the champion, the post fight concert and Pinoy celebrations, and other trivial things that are made significant because the Pambansang Kamao (national fist), is in town, and is victorious once more.
When I mentioned in my story that I had Marquez winning in my score card, I got five nasty emails from Pinoy boxing fans chastising me, saying I am a very incompetent sportswriter and should stop being one.
Still, I thanked the email writers for reading my story, but got back at them quickly saying that they were utterly wrong. But you cannot blame the sports fans; they possess less rational brains, and the most fanatic of them are essentially morons.
The truth is my training as a sportswriter in Manila was very extensive, and I persevered long and hard to be accepted as a bonafide member of the elitist Philippine Sportswriters Association. I couldn't forget the day when Eking Gonzalez, the Times Journal sports editor – after making me rewrite the sports press releases for two months – sent me out for my first sports coverage, a semifinal NCAA match between teams that were likely to earn championship berths.
Needless to say, it was a disaster. When I came back to the office, he took a long quizzical look at my running score and asked, "What happened here?" All I could do was scratch my head, embarrassed that I turned in a poor material for a sports story.
And then he went on to chastise me: "You should remember kid, you are out there and you have a job to do. You are not out there as a fan. You are a sportswriter. You have to tell as accurately as possible what happened during the sporting contest," he said.
I remember what Eking  told me every time I sit down to cover a sporting event, and I turned out, by his (Iking) own admission, to be a very diligent sportswriter.
Did I lose my diligence and objectivity as a sportswriter when I scored the Pacquiao-Marquez II in favor of the Mexican?
I don't think so. The one thing I did right was that I was sitting there on the sixthrow from the ringside totally focused on the fight. Momentarily, I had to shake off my Filipino bias because I don't want my running score to be influenced by the Mah-nee, Mah-nee Pinoy bandwagon around the arena.
This is the problem in sports like boxing, fencing, wrestling, karate, gymnastics, and dance sport where contest results are determined by relative judgments, by how every judge sees it. Always, there are contentious protests in closely-fought contests; always, there are disagreements as to who is the rightful winner.
Although, I am sure, if you are a Marquez fan, you will say that Pacquiao's victory  was not that convincing; because, well, it was not. You can check the tapes and see for yourself how evenly the protagonists traded punches. The same was reflected in the punch-stats that were given to us at the media center. The match, really, could have gone either way. It would have made Marquez's " I wuz robbed" mantra more credible had he not hit the canvas in the sixth. If a self-respecting Filipino sportswriter scored the fight for him, then the "Dinamita" has every reason to keep whining all these years that he was, indeed, robbed of the victory.
This third time though, the Mexican prizefighter must be ready for something different as he will be contending with a smarter champion – make it, a motivated champion – that he embarrassed when he went to Manila proclaiming he won over the Pacman twice.
Pacquiao does not use cuss words or do trash talk, but during media workout at the Wild Card Gym in Hollywood, it was obvious that he is fired up. The sum of his interview:  "I will give him the answer to his whinings."
That is very scary.  The Pacman sounds like he is gonna gobble up his foe inside the ring. I haven't heard Pacquiao talk like this in pre-fight interviews. In his previous fights, he never threatened his ring opponents. He used to be very engaging, not underestimating them, giving them due credits, and he always called them "worthy opponents."
That's not the case this time. The Sarangani solon is visibly pissed off by Marquez's pre-fight insulting bravado. I have a feeling the Mexican Dynamite will find it hard to detonate his stack of explosives  that he used to parry the furious fists of the pound for pound king.
Marquez should have listened to what the Filipino star was saying last week: "Itong laban na ito ay sagot sa mga doubting Thomases."  That is tantamount to a trash talk, which means, "watch out, I'm gonna get you this time." For the Mexican warrior, he can also say, "Tengo algo mas." Any which way, Pacquiao-Marquez III, may just as well be called "El Conflicto Final," as it is expected to be an extremely  intense bout, with two much improved and evenly-matched fighters trying to outdo each other to prove a very significant point. This fight will ultimately settle everything there is to settle – the whines, the doubts, and the myriad of questions that still linger in the minds of the boxing fans in Las Vegas, in the Philippine, in Mexico and everywhere else.
Will Freddie Roach be accurate when he said, "KO in the sixth?"
I am not bringing my old laptop this weekend; my blow by blow method may yet prove to be my own undoing; because this time, I have an important work to do, and  I don't wanna miss a thing.