BY ZEN S. LALUNA
LAS VEGAS – World renowned Filipino boxing icon Manny Pacquiao stumps for U.S. Senator and Majority Leader Harry Reid, a Democrat of Nevada, at the Orr Middle School in Las Vegas, Nevada last Friday, October 29, four days going into the Federal and local general elections on November 2.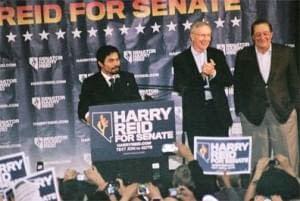 Introduced by Bob Arum, Top Rank president and staunch supporter of the Democratic candidate, Senator Reid and Pacquiao walked onstage together to the warm applause of the crowd that gathered as early as 4:00 p.m. at the school auditorium.
Arum praised the tandem of U.S. Senator Harry Reid and Filipino boxing legend-now lone Congressman, from Sarangani, Cotabato City in the Philippines for their professional achievements and desire to serve the people selflessly despite success in their professions.
Manny Pacquaio, responding to the warm reception accorded to him and Senator Reid, praised Senator Reid for his work in the Seante in support of Filipino veterans and immigration, and warmly endorsed him for re-election to the U.S. Senate. Pacquiao took a leave from his hectic training at the Wild Card Gym in Los Angeles to stump for Senator Reid in Las Vegas. Senator Reid is running for the fifth term in the U.S. Senate.
In his brief message, Senator Reid drew a parallelism in his life with Pacquiao.
Both were born into poverty. Reid, the son of a miner in the small town of Searchlight, Nevada during its gold-and-silver boom, had to walk to school several miles from Searchlight to Las Vegas, while Pacquiao hardly finished high school due to poverty.
Reid was a champion boxer in college on scholarship which he used to augment his meager education funds.
Pacquiao found his calling in boxing and steadily became a world champion in seven different weight divisions.
Reid rose from the political ranks until he became the U.S. Senate Majority Leader, the highest position ever achieved by any career politician in Nevada. He has served in the last 24 years his constituents in Nevada.
Pacquaio, on the other hand, is a newly-minted lone Congressman from Sarangani, Cotabato City in Southern Philippines.
As Senator Reid pointed out, both of them wanted to share their life experiences and serve the poor and marginalized constituents through legislation and providing development funds for their respective state and province which they represent when it could have been easier to rest on their laurels.
Senator Reid and Pacquiao were mobbed by supporters and fans after the stage ceremonies. Both gamely came off stage and signed autographs and enjoyed photo opportunities with the crowd that thronged the Orr Middle School auditorium.