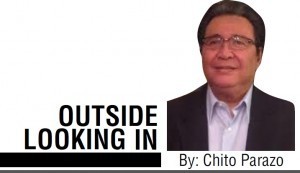 Once again, the Filipino nation rejoiced on the recent success of Manny Pacquiao in his boxing bout with New Yorker challenger Cris Algerie. At 35 years old, I think Pacquio lost some of his lethal punching power which has catapulted him into an international boxing superstar.
Despite the fact that he has not scored a knock-out victory since getting floored by Juan Manuel Marquez in 2012, Pacquiao is still the perfect symbol of the hopes and aspirations of the Filipino people, particularly the poor.
While watching the Pacquiao versus Algerie fight in a hotel in Burlingame, San Francisco, people watching the fight in the television all agreed that the "fighting pride of the Philippines" is the most effective morale booster of a country that has been rocked by scandals for years due to unabated corruption among elected public officials.
Most Filipinos think that the only good news that can lift up the spirits of Filipinos is when Pacquiao steps into the ring, fights and wins. Pacquiao is also an effective unifying leader with the ability to inspire others because of what he has accomplished in life.
Pacquiao has transformed his success in boxing into other fields. He is now a singer, once a television host, an actor, a professional basketball player and coach, and a Congressman representing the province of Sarangani.
Pacquiao has long been rated as the best pound-for-pound boxer in the world by sporting news and boxing websites, as well as the ESPN and Sports Illustrated, for his remarkable success as a boxer. According to Forbes, he ranked #14th highest paid athlete in the world.
In spite of all the accolades he has gotten for his boxing skills, the former "poor boy" and "balut" vendor from Kibawe, Bukidnon, remains humble.
I sincerely believed that Pacquiao's boxing days are numbered. I also don't believe that Floyd Mayweather will ever fight Pacquiao. I also do not believe that Mayweather is scared of Pacquiao. What Mayweather is scared of is the possibility of losing his impeccable boxing record. A possible fight with Pacquiao might put a dent on Mayweather's  zero loss record.
While Pacquiao's illustrious boxing days are about to end, his political career is just beginning. As a boxer Pacquiao is worshipped  by the Filipino masses.  He is considered by the poor as a hero and pride of the Philippines.
As a politician representing Sarangani province, he is well respected  not only in Mindanao, but throughout the country because he has never been involved in any anomalous transactions unlike his counterparts in both houses in Congress.
I hope that the current crop of politicians in Congress will learn from Pacquiao how to practice the art of humility and honesty. There is little doubt he will be a Senator in 2016. Too bad he cannot run for a much higher office. He is only 35 years old. He must be at least 40 years old to be able to run as Vice President.
Between Pacquiao or Binay or Blemonte  or Drilon, I will choose Pacquiao. At least he has a good heart and intention to help improve the quality of life of poor Filipinos.  But the most important thing is the fact that Pacquiao lacks the intellectual capability to ransack the Philippine treasury.
I say Binay and Roxas are still lucky that Pacquiao does not have the required age to run for president or vice president. I am sure Pacquiao will win hands down if ever he runs against any of the two. Binay has long been considered as a corrupt politician, while Roxas is simply an under achieving public official.
Speaking of corruption, it really means a lot when you're a close friend of President Aquino. Take the case of PNP Chief Alan Purisima. Despite being charged with plunder and graft before the Ombudsman office, he is still the top honcho at PNP. Senators and Congressmen are calling for his resignation ever since his multimillion peso mansion in Nueva Ecija was exposed, including his hard to believe big discount he got from a car dealership in Pampanga  when he purchased an expensive Nissan SUV vehicle.
Perhaps to appease the public and to show that the Aquino government  is on the right track of treading the "daan na matuwid," the Office of the Ombudsman ordered the six-month suspension without pay of PNP Chief Purisima and some of his staff involved in the anomalous PNP-Werfast documentary agency deal.
It was alleged that Purisima and some of his men got "kickbacks" from the deal. Following an anonymous complaint, the DILG and the Ombudsman Office initiated an investigation and found out that  Werfast  was not qualified to do business with the PNP as courier for gun licenses.
It was also found out in the course of investigation that aside from having no track record of financial capability to do business with the government, it showed that Werfast did not pay any taxes from 2011 to 2013, based on BIR records.
If I were Purisima, I will quit right away as PNP Chief for me to salvage whatever little decency I still have. I know that Purisima has lost his moral ascendancy to head the country's police force. He lost all sense of decency, honesty and integrity as a police officer and as head of the Freemasonry in the Philippines. He is the current Grandmaster. General Purisima is a disgraced to Masonry.
The only thing for him to do is quit as PNP chief to save his family from further embarrassment.