By Rod Mijares, Las Vegas
Balita Media
Mexican warrior and future Hall of Famer, Juan Manuel Marquez, successfully defended his unified lightweight title on Saturday at MGM Grand Garden in Las Vegas after the referee, Kenny Bayless, stopped the fight in the 9th round when Marquez's successive punches and jabs were left unanswered by Michael Katsidis.
Katsidis tried to ran around in circle but when Marquez threw another barrage of punches and was answered only once by Katsidis, it was too much for the referee to handle.  He waved the bout off in front of 4,920 stunned but satisfied attendance who remained standing and clapping their hands as if clamoring for more action.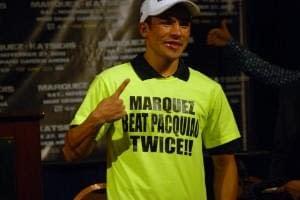 It was a spectacular fight full of action from the first round until the 9th round.  It was a main event worthy of the title "Warriors" as both fighters came out like warriors slugging it out taking turned in punching each other's body and head like punching bag amidst chants of Mejico, Mejico and Ausi, Ausi in reference to Mexico and Australia were the fighters came from.
Both fighters were almost even in the total punches thrown.  628 for Marquez and 630 for Katsidis.  However, Marquez connected 327 of them against only 194 for Katsidis.  Marquez connected 113 of his 290 jabs and Katsidis connected only 39 of his 146 jabs.  In power punches, Marquez connected 214 out of 338 while Katsidis connected 155 out of 484.
When the fight was stopped, Marquez was leading 76-75, 78-74 and 77-74 in the judges scores after the 8th round.
"This fight was a sure candidate and deserving for the title of 'Fight of the Year,'" Golden Boy Promotions CEO, Richard Schaeffer, said.
Katsidis was calculating in his punches in the first round more of counter punching.  However, this changed during the second round when he began throwing punches toe to toe with Marquez. He surprised Marquez in the 3rd round with a left hook that sent Marquez down.  However, it was vintage Marquez as he shrugged it off, defended himself so well and even clobbered Katsidis in the last seconds of the third round.
"He surprised me.  I made an error.  I threw a punch and dropped my hand.  But I am in a very good condition,"  Marquez said in the post-fight press conference.
It was customary for any American professional team to wear championship caps after their wins, be it in basketball, hockey, baseball or football.  Juan Manuel Marquez, on the other hand, broke that tradition by wearing his specially made championship "shirt" with ads that read "MARQUEZ BEAT PACQUIAO TWICE!!" in front and "PACQUIAO, YOUR NEXT" on the back.
Of course, the first fight between Pacquiao and Marquez on May 8, 2004 at MGM Grand Garden for the WBA super world featherweight and IBF featherweight titles (125 pounds) was a draw.  Marquez lost the second fight at the Mandalay Bay Resort & Casino on March 15, 2008 for the WBC super featherweight title (129/130 pounds) via a split decision by a matter of only 1 point.  Marquez believed in his heart until now that he won on those 2 bouts.
The shirt also is to challenge Pacquiao for the trilogy.  Everybody believes from Marquez team to Golden Boy Promotions that after his dynamite and explosive performance against Katsidis, Marquez deserves a third fight with Pacquiao at any venue team Pacquiao decides but not at 147 pounds.
"It's too much weight," Marquez said.  I will fight him at a catch weight of 140 or 142 pounds.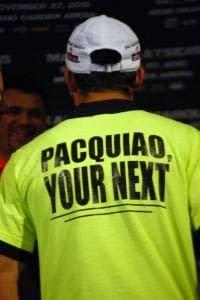 Pacquiao's acceptance of Marquez's challenge will be good for boxing.  What is more explosive than to fit a Filipino against a Mexican and not just any Filipino or any Mexican.  We are talking of number 1 pound for pound boxer in the world in Manny Pacquiao and the number 4 pound for pound boxer in the world in Juan Manuel Marquez.  Not to mention, that both are future Hall of Famers and holders of numerous world championship titles in various divisions.  Besides, the third fight, if it will happen, will decide who is really the best fighter between the two warriors, Pacquiao or Marquez.
That is a mega fight and sure, a sell-out.
BERTO VS. HERNANDEZ
In the other co-main event, Andre Berto (27-0, 21KO) of Miami, Florida remain the undefeated WBC world welterweight champion by knocking down Mexican Freddy Hernandez (29-2, 20KO) with a 1-2 punch combination just in the first round.
"I was just throwing a jab.  I jabbed to the stomach and came over with the right.  His left had been dropping," Berto said.

 "I've eaten all my appetizers.  I'm ready for the main course.  Mosley, Cotto, or definitely Pacquiao.  I think I'm the best available fight for Pacquiao,"  Berto added.