By Benjamin Pulta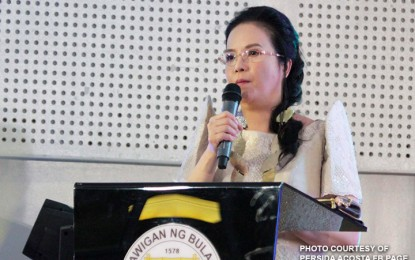 MANILA – The chief of the Public Attorney's Office, Persida Rueda-Acosta, publicly apologized to the Supreme Court (SC) on Friday for her online tirades against portions of the Code of Professional Responsibility and Accountability (CPRA).
The CPRA was launched in April after a seven-month study by the SC for a "modern, relevant and responsive guide for a lawyer's conduct" in consultation with more than 2,000 law practitioners nationwide.
On Thursday, the SC said it ordered a show cause order on Acosta on why she should not be held liable as an officer of the court for her "unabated public tirades" through social and mainstream media against Canon III, Section 22 of the CPRA, which she called "unconstitutional, and an undue interference and intrusion by the [SC] into PAO's operations."
Acosta protested the portion that allows lawyers from PAO to represent opposing parties in a court trial.
"To our beloved justices of the Supreme Court, on behalf of the Public Attorney's Office, and all public attorneys nationwide, I humbly and most respectfully apologize if you may have been hurt by the circumstances. We beg for your understanding and indulgence. The arguments that we have stated were brought about by our passion to efficiently serve our clients and the poor and needy, which we have been inculcating in our lawyers' practice. That is why we feared of what may happen to our clients and lawyers," read part of Acosta's apology.
She said she has nothing but "utmost respect and love to the Supreme Court, which served as my first haven and home in my public service since 1988 or more or less 35 years ago."
"Our deepest apologies… rest assured that our Public Attorneys will abide by Section 22 in relation to Sections 13 and 18, Canon III of the Code of Professional Responsibility," Acosta further stated
She also issued Office Order No. 096 for PAO lawyers to comply with the CPRA.
Acosta's order said individual resident public attorneys assigned in specific courts must be mindful to avoid violating the law against "betrayal of trust by an attorney or solicitor" which carries a prison term and a fine of up to PHP200,000.
The same penalty is imposed on an attorney defending a client and after having received confidential information, later defends the opposing party in the same case without the consent of the first client.
The SC this week turned down the PAO chief's plea to amend a part of the updated CPRA.
In a letter dated April 20, 2023 and addressed to Chief Justice Alexander Gesmundo, Acosta asked for the deletion of Section 22, Canon III of the CPRA, which "limits the invocation by the PAO of the rule on conflict of interest."
The section "creates the impression that the justice system in the Philippines is a sham" and "is detrimental to public service because crucial to keeping the people's trust in our justice system is prevention not only of actual commission but any appearance of impropriety."
But the SC said "to turn away indigent litigants and bar them from availing of the services of all PAO lawyers nationwide due to alleged conflict of interest would be to contravene PAO's principal duty and leave hundreds of poor litigants unassisted by legal counsel they cannot otherwise afford."
The questioned provision sought to be taken down by PAO states that a "conflict of interest of any of the lawyers of the Public Attorney's Office incident to services rendered for the Office shall be imputed only to the said lawyer and the lawyer's direct supervisor. Such conflict of interest shall not disqualify the rest of the lawyers from the Public Attorney's Office from representing the affected client, upon full disclosure to the latter and written informed consent." (PNA)