It's beginning to look a lot like Christmas around Historic filipinotown (HiFi), with Filipino parols or lanterns ubiquitously displayed along Temple Street.
On Tuesday, Nov. 23, at the Silverlake Medical Center, the Fil-Am community – with Councilman Eric Garcetti and Congen Mary Jo Bernardo Aragon in the lead – gathered for the annual parol lighting and the launching of the "2010 Historic Filipinotown Holiday Parol and Parade Contest," and the Remedios Vergara Geaga advocacy projects.
In his remarks Garcetti, who is also President of L.A. City Council, cited the strength of diversity when he said that there are 100 languages used by different ethnicities in the District that encompass the fabric of cultural diversity in the area.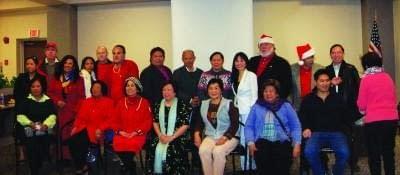 Photo shows Cecile Ramos, Consul General Mary Jo A. Bernardo Aragon, David Rockello, Dr. Leo Pandac, and the Historic Filipinotown organizers of the parol contest. Among the participants in the lighting ceremony were Perla Reyes of the MOTHER movement, Violeta Filart , Vic Ching, Mark and Rosalie Caratao, Amor Hayner, Manny Legaspi, Joselyn G. Rosenthal, Jorge Prado and Dr. Ben Marte.
(Text and photo by Romy P. Borje, BNS)