By Zaldy De Layola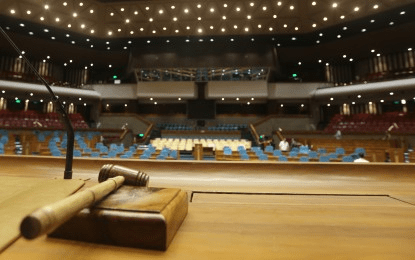 MANILA – Leaders of the House of Representatives have pushed for the passage of a bill seeking to protect solo parents and their children, and another measure holding "deadbeat" parents accountable for not supporting their children.
"We are working on these and continually holding consultations to refine these [proposed] laws, and we want to ensure the protection of solo parents and their children," House Deputy Majority Leader, ACT-CIS Partly-list Rep. Erwin Tulfo, and House Senior Deputy Minority Leader Paul Daza said in a statement Sunday.
Tulfo and Daza are referring to House Bill (HB) No. 44, also known as the "Child Support Bill" and House Bill (HB) 8987 or "An Act Punishing the Willful Failure to Pay Paternal Child Support."
The bills seek to oblige fathers and mothers to provide adequate support for their children, whether they are legitimate or illegitimate.
On Friday, the House conducted a public hearing on the two bills, attended by national and local government officials and other stakeholders from various groups, including the Council for the Welfare of Children.
Under HB 44, parents will receive assistance in finding employment so they can provide financial support to their children.
"Dapat isipin ng mga magulang na obligasyon nila na maibigay ang pangangailangan ng kanilang mga anak kahit pa wala ito sa kanilang kustodiya (Parents must think it's their obligation to provide the needs of their children even though they're not under their custody)," Daza, author of the bill, said.
If passed into law, HB 44 would enforce a monthly support of PHP6,000 from parents who do not raise their children. It would also create the National Child Support Program.
HB No. 8987, on the other hand, sets the financial support at 10 percent of an individual's income, but not less than PHP6,000.
A parent who fails to provide financial support may face imprisonment of up to 12 years and a fine ranging from PHP100,000 to PHP300,000.
The two lawmakers said HB 8987 or "Anti-Balasubas Bill" will successfully provide the ever-sought protection for children abandoned by parents.
They emphasized the need to consult more sectors to ensure well-crafted laws that the properly protect solo parents as well as children.
'Blue economy'
AGRI Party-list Rep. Wilbert T. Lee also pushed for the passage of HB 8893 or the Blue Economy Act of 2023 which seeks to protect Philippine seas and the livelihood of fisherfolk.
Under the bill which was already approved by the Committee on Economic Affairs, Lee sought the adoption of a "blue economy" as a framework for safe use and sustainable development of Philippine maritime resources.
The blue economy, Lee said, refers to a practical ocean-based economic model using green infrastructure and technologies, innovative financing mechanisms, and proactive institutional arrangements for meeting the twin goals of protecting oceans and coasts and enhancing its potential contribution to sustainable development, including improving human well-being, and reducing environmental risks and ecological scarcities.
He said harnessing the blue economy will "maximize the economic contributions of our seas while ensuring its responsible development to preserve it for future generations."
The lawmaker pointed out that the country, located in the Coral Triangle, is a biodiversity hotspot that "is neglected as human activities such as overexploitation, pollution and climate change have damaged the country's coral reefs, mangrove forests, and endangered species."
"As a result, there is a threat to the food security, fisheries, marine conservation, and tourism. It is the obligation of each and everyone of us to protect it," he said.
"By protecting our seas we are protecting the sea-based livelihoods of our countrymen. Kung wala silang kita (If they don't have income), how will they feed their families? How will they take care of their loved ones if they get sick?" he added. (PNA)