By Charley Rosen
Brother, where art thou?
Right here, bro. In your face.
There were several reasons why the Grizzlies defeated the defending champion Lakers, 98-96, on Tuesday night:
Kobe Bryant dominated the Lakers' offense way too much — shooting only 9 of 25 to get his 29 points.
Mike Conley had a career game, scoring 28 points on only 13 shots.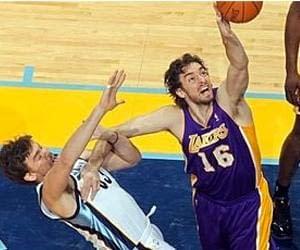 Memphis had six players in double-figures to the visitors' three.
Ron Artest had an ill-advised triple attempt blocked at the buzzer by Rudy Gay.
The Lakers perimeter defense was awful, and the Grizzlies swarming defense was superior to LA's often static offense.
But another major factor was the outcome of the battle between the Brothers Gasol, Marc (at 7-1, 280) for the home-standing Grizzlies, and Pau (7-0, 227) for the Lakers.
Gasol the Elder was more of an integral part of his team's offense, getting a total of 36 touches to Marc's 19. However, Pau's point-making was virtually eliminated by his kid brother's size, hustle, strength and familiarity with his moves and tendencies. Only four of Pau's 15 points were tallied in direct confrontations with Marc — a putback, and a hard-driving venture along the baseline that resulted in a foul and a pair of free throws.
Otherwise, Marc was repeatedly able to bump Pau off of prime real estate in the low post. On one sequence, Pau set up to receive the ball on the left box and didn't get his hands on the rock until he was five feet from the sideline. On another possession, Pau drove into the middle from the left box and was so overpowered that he eventually had to pull up his dribble and make an out-pass as he approached the stripe.
Pau got to operate freely in the pivot only when Marc was on the bench and he was being inadequately defended by Hasheem Thabeet.
Still, Pau set several solid screens (seven to be precise), and made clever kick-out passes when he was occasionally doubled in the pivot (which accounted for his four assists).
However, if his impact was diminished when the Lakers had possession, Pau's defense was excellent. Credit him with 14 rebounds, four blocks and seven instances where he provided excellent help.
Not counting two layups that resulted when Marc dove to the hoop on high screen/rolls and the Lakers failed to rotate properly, Pau only allowed his brother to tally three points. All of them, as it happened on a single play — a power-drive along the baseline for a layup-and-one.
If should be noted, though, that, unlike Pau, Gasol the Younger rarely looked for his own shots. Besides the three-point play, he missed two swinging hook shots. The rest of his total of ten points resulted from coordinated ball- and player-movement. Overall, Marc hit half of his eight field goal attempts. It should be noted that Marc also missed three layups — one in the last minute of play that might have been extremely costly.
Marc was too eager to slip most of the screens he was asked to set, and usually left before making contact. For the most part, Marc was asked to reverse the ball from the top of the key as a way to facilitate his team's iso-oriented offensive game plan.
Marc was faced with a more difficult task on the defensive end than was Pau, and did a bang-up job. Among the former's pertinent numbers were nine rebounds, three blocks and one assist.
On numerous occasions, Marc simply bodied Pau out of optimal rebounding position. And Marc also came up with three sterling defensive rotations.
Through it all, the brothers gave no hint that they had ever met each other. Elbows were flashed. Bodies collided. And game faces were maintained.
For this game, at least, Marc's advantage in mass and strength won the battle against Pau's quick cleverness, and the Grizzlies won the war.