By Ruth Abbey Gita-Carlos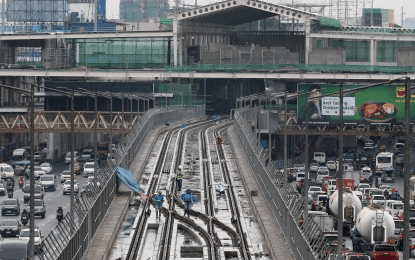 MANILA – At least 80 potential infrastructure projects can be funded through the Philippines' first-ever sovereign wealth fund, the Maharlika Investment Fund (MIF), President Ferdinand R. Marcos Jr. said Thursday (Manila time).
"Currently, we have identified about 80 potential infrastructure projects that are financeable through the fund, the Maharlika Investment Fund," Marcos said in his keynote speech during the Philippine Economic Briefing (PEB) in San Francisco, California.
Marcos' statement came following the release of the revised implementing rules and regulation (IRR) of Republic Act (RA) 11954 or MIF Act of 2023 last week.
The revised IRR introduced several amendments to the provisions on the appointment of the Board of Directors of the Maharlika Investment Corporation.
On July 18, Marcos signed RA 11954 establishing the MIF to optimize national funds by generating returns to support his administration's economic goals laid out in the Medium-Term Fiscal Framework, the 8-point Socioeconomic Agenda, and the Philippine Development Plan 2023-2028.
Under RA 11954, the MIF will be used to invest in a wide range of assets, including foreign currencies, fixed-income instruments, domestic and foreign corporate bonds, joint ventures, mergers and acquisitions, real estate and high-impact infrastructure projects that contribute to the attainment of sustainable development.
Marcos said his administration is focused on boosting productivity with "much improved" infrastructures through its "Build Better More" Program to attract investments that will uplift the living condition of Filipinos.
When asked about his plans to facilitate international partnerships and collaborations for the benefit of Philippine businesses, Marcos said the government is working to address the shortfall in physical connectivity.
Marcos stressed the need to improve connectivity and supply chain to help the Philippines regain its leading role in Southeast Asia before the Covid-19 pandemic.
"So, for our part, that's what we're doing and that brings us now beyond just the pure economic considerations, because now, there are political and diplomatic considerations, because these partnerships are now essential," he said.
"The economy is well. I know we've heard it many times but I think today, without fear of contradiction, we can absolutely say that the economy is truly global and we must again view all that we do in that context," Marcos added.
Marcos said in terms of spending, there is a clear delineation about the government's responsibility and what it is assigned to do, as against the role played by the private sector.
He also noted that investing in digital infrastructure would result in financial transactions convenience and increased productivity.
"And that is what we're really going for because when we look at successful economies that have had to pick themselves up after war for example, and the Covid was kind of a war, so, we have to pick ourselves up from that," Marcos said.
"It is productivity, it's an increase in productivity and that's what we're trying to achieve. Infrastructure – the physical infrastructure, a better, a more efficient transport system, a cheaper transport system. All of these will increase the productivity of every single Filipino worker."
Marcos said conferences and summits such as PEB are important, stressing that political, diplomatic, economic partnerships and alliances have "stabilizing effect."
The PEB serves as a platform for key economic officials to give both the local and international business and financial communities an update on investment opportunities in the Philippines and the country's robust economic performance.
The Marcos administration has so far held 12 international PEBs: two in Singapore, four in the United States (US), and one each in Germany, the United Kingdom, Japan, Canada, Qatar, and the United Arab Emirates.
The PEB in San Francisco, California is the 12th international briefing and the fourth in the US. Domestic PEBs were also conducted in Manila and in key business centers in Cebu, Davao and Laoag. (PNA)