By Anna Leah Gonzales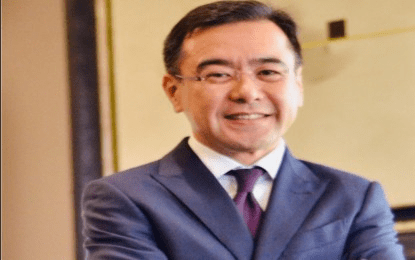 MANILA – President Ferdinand R. Marcos Jr. has appointed Rafael Consing Jr. as President and Chief Executive Officer (CEO) of the Maharlika Investment Corporation (MIC), the Presidential Communications Office (PCO) announced on Monday.
"Mr. Consing is expected to play a pivotal role in enhancing the corporation's investment strategies and contributing to the economic growth and prosperity of the Philippines," the PCO said in a statement.
The MIC serves as the primary vehicle for mobilizing and utilizing the Maharlika Investment Fund (MIF) for investments in transactions aimed at generating optimal returns on investments (ROIs).
MIC's responsibilities include governing and managing the Fund following the objectives and purposes outlined in Republic Act No. 11954, or the MIF Act, as well as other relevant laws, rules and regulations.
The corporation is also committed to upholding the Santiago Principles and other internationally accepted standards of transparency and accountability.
The PCO said that as President and CEO of MIC, Consing is tasked to establish a diversified portfolio of investments in local and global financial markets and other assets that align with the Fund's objectives; manage and invest the initial and future contributions to the Fund; and accept and manage investment mandates aimed at increasing income for development goals.
READ: DOF backs Maharlika's revised IRR
He will also develop and foster skills in finance, economics, risk mitigation, good governance, and related areas, consistent with building human resources capacity in the industry and implement international best practices in investing and managing assets.
"The PCEO shall also work closely with the executive management and the Board, possessing extensive experience in corporate management, financial planning strategy, strategic planning and vision, market and business development, budget development, and a deep understanding of the industry," the PCO said.
"The PCEO, appointed by the President of the Philippines for a term of three years, will ensure that MIC continues to make significant contributions to the nation's long-term economic prosperity," it added.
Consing is currently appointed as Executive Director of the Office of the Presidential Adviser for Investment & Economic Affairs (OPAIEA) under the Marcos administration.
He is an accomplished and multi-awarded C-level executive with experience in corporate governance, mergers and acquisitions, corporate finance, global capital markets, stakeholder relations, and business strategy development.
Prior to his appointment in government, he served as a Senior Vice President & Chief Financial Officer of International Container Terminal Services, Inc., where he received multiple awards and recognition for his exceptional work in capital structuring, management and execution, treasury and risk management, investor relations, corporate finance, and compliance.
He was also a Managing Director at HSBC Hong Kong and HSBC Singapore, Vice President and Treasurer for Aboitiz & Co., Inc. and Aboitiz Equity Ventures, Inc., and also held positions at Bankers Trust Company and Multinational Bancorporation, where he gained experience in investment banking, derivatives and corporate finance.
Consing is a graduate of De La Salle University and has also completed the Stanford University Graduate School of Business's Emerging CFO: Strategic Financial Leadership Program in 2016. (PNA)