By Ruth Abbey Gita-Carlos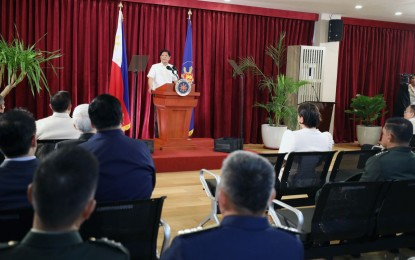 MANILA – President Ferdinand Marcos Jr. arrived Thursday in Riyadh, Saudi Arabia for his participation in the 1st Association of Southeast Asian Nations (ASEAN)-Gulf Cooperation Council (GCC) Summit, Malacañang said.
PR001, the chartered flight carrying Marcos and the official Philippine delegation, landed at the King Khalid International Airport in Riyadh at around 12:56 p.m., Communications Secretary Cheloy Garafil said in a statement.
"Upon arrival, the President is scheduled to attend a roundtable meeting with Saudi business leaders," Garafil added.
Marcos will attend the inaugural ASEAN-GCC Summit on Friday and is expected to discuss the need to address the challenges of major geopolitical developments.
He would also emphasize the importance of enhancing security, economic progress, and socio-cultural collaboration between ASEAN and the GCC.
In his pre-departure statement delivered earlier Thursday at Villamor Air Base in Pasay City, Marcos said the ASEAN-GCC Summit serves as an important platform for the Philippines to highlight the need for cooperation in energy, food security, and trade.
Marcos said he would also seek the promotion and protection of the overseas Filipino workers' (OFWs) rights.
GCC countries Saudi Arabia, Oman, Qatar, Bahrain, Kuwait, and the United Arab Emirates are home to an estimated 2.2 million Filipinos working in critical fields.
Marcos also pledged to advocate for a rules-based international order to maintain peace, security, and stability in both regions.
Marcos is also scheduled to meet with the Filipino community in Riyadh and hold bilateral meetings with Saudi Arabia and Bahrain.
Saudi Arabia and the Philippines established diplomatic relations on Oct. 24, 1969.
The Philippines opened a mission in Jeddah in December 1973, while the Saudi government opened an embassy in Manila a year later.
The kingdom is the third largest source of OFW remittances despite the downward trend since 2016.
In 2020, the remittances amounted to approximately USD1.8 billion, a 14 percent decline compared to USD2.1 billion in 2019.
The majority of remittances were from land-based OFWs. (PNA)