By Ruth Abbey Gita-Carlos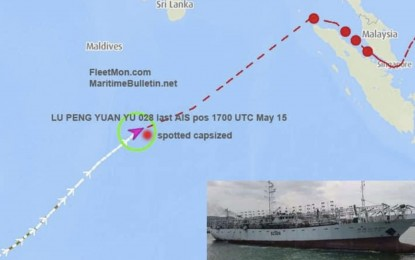 MANILA – President Ferdinand R. Marcos Jr. on Friday expressed his condolences to the families of five Filipino seafarers who died after a Chinese fishing vessel capsized in the Indian Ocean on May 16.
"Nakikiramay tayo sa mga pamilya ng mga kababayan nating nasawi sa tumaob na fishing vessel sa Indian Ocean noong ika-16 ng Mayo (We are extending our sympathies to the families of our countrymen who died when a fishing vessel capsized in the Indian Ocean on May 16)," Marcos said in a Facebook post.
The government will provide assistance to the bereaved families, he said.
"Nakaantabay ang ating pamahalaan para sila'y alalayan (The government is here to assist them)," he said.
Marcos also thanked the Australian and Chinese search and rescue teams for conducting extensive operations in the Indian Ocean "in spite of the unforgiving weather."
On Wednesday, the Department of Foreign Affairs (DFA) pledged to assist the families of five Filipinos who were among the 39 crew members who died in the fishing vessel mishap.
The DFA is coordinating with the Department of Migrant Workers for the repatriation of the remains of the five Filipino seafarers, as well as for the granting of benefits to their bereaved families.
The Chinese fishing vessel, Lu Peng Yuan Yu 028, capsized at the central part of the Indian Ocean on May 16.
Aside from the five Filipinos, the vessel also had 17 Chinese and 17 Indonesian crew members when it sank.
Based on the initial report from China's Ministry of Transport, "no survivors were found in a weeklong search" for the 39 crew members aboard the Lu Peng Yuan Yu 028.
The latest report from the state-run Xinhua news agency said seven bodies have so far been retrieved as of May 23.
Meanwhile, the Chinese Embassy in Manila has expressed "heartfelt and deepest condolences" over the death of the five Filipinos and other crew members on board the capsized boat.
In a statement Friday, the embassy said the Chinese government appreciated the "prompt" help from countries including Australia, India, Sri Lanka in the search and rescue efforts by sending vessels and aircraft to assist in a large-scale multinational maritime rescue, covering the possible area of drifting of the victims for nearly 18700 square nautical miles.
"The Chinese embassy has been communicating closely with the Philippines Government since the beginning. We built a channel with each other to share the latest SAR progress and jointly coordinate with other related countries to increase SAR efforts together," the statement read. (PNA)