By Ruth Abbey Gita-Carlos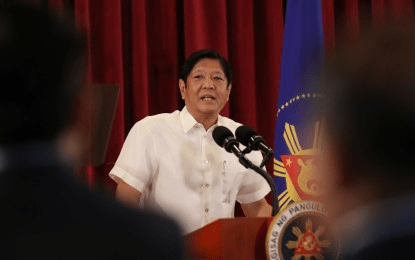 MANILA – President Ferdinand R. Marcos Jr. on Saturday landed at Villamor Air Base in Pasay City after his "successful and productive" visit to Saudi Arabia.
Marcos reported the outcome of his participation in the first Association of Southeast Asian Nations – Gulf Cooperation Council (ASEAN-GCC) Summit in Riyadh, as well as his meetings with Saudi Arabia's and Kuwait's crown princes, business leaders, and the Filipino community.
"I have arrived back from Riyadh, Saudi Arabia after a very short but I can say successful and productive visit," he said in his speech.
Marcos noted that during the ASEAN-GCC Summit, he promoted the Philippines' priorities and advocated for a rules-based essential order to maintain peace, security, and stability in both regions.
"I highlighted in particular the ways that we can collaborate in the areas of energy food security and the enhancement of logistic chains for the continued progress of our independent global economy. I underscored in this regard our commitment to the full implementation of the ASEAN-GCC Framework of Cooperation from 2024 to 2028," he said.
Marcos said he also called for the protection of the rights and welfare of overseas Filipino workers (OFWs), given that more than two million Filipinos are employed in GCC countries.
He urged the GCC member states to upskill OFWs to meet the demands of the increasing digital transformation in the modern workplace.
He met with the Filipino community in Riyadh on Friday and assured them of his administration's continued support and assistance.
In his speech, the President said he is proud of the "incredible determination and resilience" of the OFWs and the Filipino community who tremendously contribute to the growth of the Philippine economy.
"On behalf of the government of the Philippines, I convey my gratitude and express my admiration to each and every one of you. You served as an inspiration to us all. The knowledge and the skills that you have acquired, 'yung inyong galing at sipag habang kayo'y nandito (your skills and hard work while here) have proven to be invaluable assets to the Philippines," President Marcos said.
Marcos noted that the USD4.2 billion worth of business agreements with Saudi firms are expected to generate an additional 220,000 jobs for Filipinos over the next few years.
The President likewise had separate meetings with Saudi Arabia's Crown Prince Mohammed bin Salman Al Saud and Kuwaiti Crown Prince Sheikh Mishal Al-Ahmad Al-Jaber Al-Sabah to discuss ways to improve labor relations.
"So, let me assure you that we will continue to advance our national interests as we further expand our partnerships abroad," he said.
Meanwhile, Speaker Ferdinand Martin Romualdez lauded the President's successful two-day trip.
He said the visit became instrumental in strengthening Philippine strategic ties with allies, a boost the country's economic stability.
He noted that Saudi business and government officials assured Marcos of their willingness to invest in the Philippines for mutually beneficial ventures, including food production, as well as their preference for the Filipino workers to meet their growing demand for labor.
"His dedication, exceptional diplomatic finesse and vision for our nation's future have resulted in tangible benefits for our country and our people, and we eagerly anticipate the positive impact these achievements will have on the Philippines' growth and prosperity," said Romualdez, who accompanied the President during the trip.
Joint statement
On Friday, the ASEAN and GCC leaders issued a joint statement, agreeing on efforts promoting peace and security, addressing climate change and labor mobility issues, promoting free trade, and supporting micro, small and medium enterprises (MSMEs).
The two regional blocs reaffirmed the importance of maintaining peace, stability, maritime safety and security, freedom of navigation and overflight in the region, and other lawful uses of the seas and unimpeded lawful maritime commerce.
They also sought the promotion of peaceful resolutions of disputes, under the universally recognized principles of international law, including the 1982 United Nations Convention on the Law of the Sea, as well as the relevant standards and recommended practices by the International Civil Aviation Organization and the International Maritime Organization.
They called for cooperation to prevent and combat transnational crime, cybercrime, counterterrorism and extremism; combat trafficking in persons; protect children's rights and welfare; and promote gender equality and women empowerment.
The leaders declared support for the empowerment of persons with disabilities and older persons.
They also want enhanced trade and investment flows by creating mutually beneficial opportunities for joint investments, consistent with the ASEAN-GCC Framework of Cooperation, with special emphasis on sustainable infrastructure, renewables, petrochemicals, agriculture, manufacturing, health care, tourism, logistics, smart cities, connectivity, and digitalization.
The joint statement declared as a priority the promotion of trade and investment relations between the ASEAN and GCC by enhancing public-private sector engagement and business-to-business relations between both regions, using available and new physical and online platforms, trade missions, exhibitions, seminars, conferences, and dialogues.
They expressed intent to explore cooperation on key economic partnership priorities, such as regional market integration; sustainability and decarbonization; digital transformation; and inclusivity, including MSMEs, public-private sector engagement, and people-to-people ties.
They reaffirmed the positive contributions of Southeast Asian manpower in building the GCC region's sustainable economic growth and development.
They sought cooperation and information sharing on Information and Communications Technology, especially in digital innovation, cybersecurity, data governance, and cross-border data flows.
The joint statement emphasized the importance and urgency of joint action to mitigate climate change and adapt to its impacts, as well as to protect the environment and develop low-carbon and clean energy technologies.
It encouraged collaboration in building strong and sustainable recovery towards enhanced prevention, preparedness, detection and response initiatives for all health hazards and threats, including ways to address emerging and re-emerging infectious diseases, zoonotic diseases, and health impacts of climate change.
The ASEAN and GCC leaders lauded the two regions' commitment at COP27 (United Nations Climate Change Conference or Conference of the Parties) and called for active participation at COP28.
They expressed support for the United Arab Emirates' hosting of COP28 in December and called for an ambitious and inclusive outcome.
They also reaffirmed their commitment to the Paris Agreement, noting the importance of successfully concluding the first Global Stocktake.
The Global Stocktake is the result of the United Nations' two-year study on efforts to tackle climate change and offers suggestions to tackle the problem. (With a report from Zaldy De Layola/PNA)