By Ruth Abbey Gita-Carlos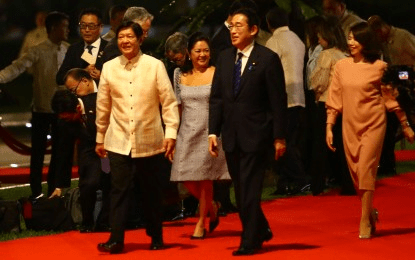 MANILA – President Ferdinand R. Marcos Jr. on Friday expressed optimism that the Philippines and Japan's strategic partnership will be "robust and future-oriented."
During the state banquet for Japanese Prime Minister Fumio Kishida at the Malacañan Palace in Manila, Marcos reaffirmed the Philippine government's commitment to sustaining its robust bilateral relationship with Japan.
"Excellency, you will recall that we expressed our ambition for a robust and future-oriented Strategic Partnership, one that will carry us through the uncertainty of our times," Marcos said in his toast remarks for Kishida delivered at the Palace's Ceremonial Hall.
"Since the normalization of our diplomatic relations 67 years ago, our relations have been cultivated by common principles of democracy, respect for basic human rights, and the rule of law," he added.
Marcos also emphasized the enduring friendship between the Philippines and Japan, fostering the realm of freedom, prosperity, and security together in the Indo-Pacific region.
He said the Filipino people are grateful for the support extended by the Japanese.
"Japan has provided us steadfast support and unwavering friendship through many decades. With patient and undistracted focus, we are building our realm of freedom, prosperity, and security together in the Indo-Pacific," Marcos said.
"Excellency, please bring home this message to the Japanese people, that for their support, the Filipino people are grateful. Let us renew our commitment to sustaining the vigor of this relationship in its prime."
'Golden age' of bilateral ties
Kishida also hoped for further advancement and development in Japan's relationship with the Philippines.
This, as Kishida said the 67-year-old bilateral relations between the governments of Japan and the Philippines are now at the "golden age."
"Japan and the Philippines are now experiencing an excellent relationship – we call it the golden age. I look forward to working with President Marcos to take these bilateral relations to even new heights," Kishida said.
Kishida stressed that his bilateral meeting with Marcos was successful, as they discussed a wide range of issues not only on the relationships between the two countries, but also on regional and global affairs.
He expressed optimism that his visit to the Philippines would deepen the two countries' relations and give further boost to future cooperation.
He said he is looking forward to Marcos' visit to Japan next month for the 50th Association of Southeast Asian Nations-Japan Friendship and Cooperation Summit in Tokyo.
Key agreements on security, defense, maritime cooperation, mining and tourism industries were signed between Manila and Tokyo after a bilateral meeting.
Kishida's visit marked another important milestone in the two nations' strategic partnership, which is a manifestation of their strong bilateral relations for 67 years now. (PNA)