By Ruth Abbey Gita-Carlos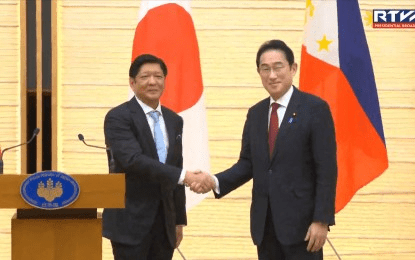 MANILA – President Ferdinand R. Marcos Jr. and Japanese Prime Minister Fumio Kishida will hold a bilateral meeting at Malacañan Palace in Manila this Friday, Malacañang said Tuesday.
This as Communications Secretary Cheloy Garafil, citing the Department of Foreign Affairs' confirmation, announced that Kishida would embark on an official visit to the Philippines from Nov. 3 to 4.
In a statement, Garafil said Marcos would lead the welcome rites for Kishida at Malacañan and discuss with the Japanese leader the areas of mutual concern such as political, security, economic and development cooperation, as well as people-to-people ties.
"The Japanese leader and the President are also expected to exchange views on regional and international issues, and reaffirm the excellent relations between the Philippines and Japan, which was elevated into a Strategic Partnership in 2011," Garafil said.
Marcos and Kishida also met in February this year in Tokyo, Japan where the Terms of Reference on Humanitarian Assistance and Disaster Relief (HADR) activities of the Japan Self-Defense Forces in the Philippines were signed.
During his official visit to Tokyo in February, Marcos also had an audience with Japanese Emperor Naruhito and Empress Masako, and meetings with various business leaders and investors.
Marcos' Japan trip led to the signing of around USD13 billion worth of investment pledges expected to generate about 24,000 jobs for Filipinos.
Kishida also pledged in February to provide 600 billion yen (USD4.6 billion) in official development assistance (ODA) and private-sector investment to support the Philippines' economic development plan to become an upper middle-income country by 2025.
During the 49th Philippine Business Conference and Expo in Manila on Oct. 26, Japanese Ambassador Kazuhiko Koshikawa reaffirmed Japan's commitment to continue investing in the Philippines' big-ticket projects.
A big chunk of Japanese investments in the country goes into infrastructure projects, among which are the North-South Commuter Railway, Metro Manila Subway Project, LRT-1 Cavite Extension, LRT-2 East Extension and MRT-3 rehabilitation.
In 2021, Japan was the Philippines' second-largest trading partner, its third-largest export market, and its second-top source of imports.
Japan has also been the country's biggest bilateral source of active ODA, providing concessional loans to finance important infrastructure and capacity-building projects, social safety net programs, education, agriculture, and science and technology support, and many other high-income programs. (PNA)