By Ruth Abbey Gita-Carlos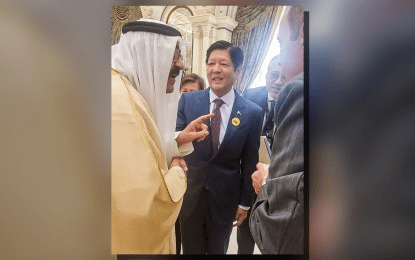 MANILA – President Ferdinand R. Marcos Jr. and Kuwaiti Crown Prince Sheikh Mishal Al-Ahmad Al-Jaber Al-Sabah have expressed their intent to address the current labor issues between the Philippines and Kuwait.
This developed after Marcos' brief meeting with the Kuwaiti Crown Prince on the sidelines of the Association of Southeast Asian Nations (ASEAN) – Gulf Cooperation Council (GCC) Summit in Riyadh, Saudi Arabia on Friday.
In a media interview in Riyadh on Saturday (Manila time), the President said the Kuwaiti monarch told him during the pull-aside meeting that he is "displeased" with the present Philippine-Kuwait relations.
The Crown Prince, he said, also emphasized that the Philippines need not issue an apology.
The monarch apologized to Marcos instead, saying he is also opposed to Kuwait's actions.
"The words that he (Crown Prince) used, 'Do not listen to them. I do not agree with what they have been doing.' And, in fact, he said, 'I do not want… There is no reason for you to apologize to us,'" Marcos told reporters.
"'We will fix it and we will make it because we love the Philippines.' And he said, 'Because I remember your father.' Sabi niya (He said), 'He always supported Kuwait. He always supported us and we know that you will also always support us. That's why we will fix this."
He noted that the meeting was initiated by the Crown Prince.
Marcos expressed optimism that the two nations would be able to resolve the issue.
He said he considers his trip to Saudi Arabia a success, after the discussion to resolve the disagreement between the Philippines and Kuwait.
"Sinasabi ko nga sa ating mga kasamahan na, just for that, worth it na itong byahe natin dahil naayos natin 'yung problema sa Kuwait, which talagang sumasakit ang ulo namin kung papaano namin gagawin (I tell our colleagues that our trip is worth it just for that because we have fixed the problem on Kuwait, which is really giving us a headache as to how to address it). But that is one of the, shall we say, successes that we can record from this trip," Marcos said.
Kuwait suspended the issuance of entry and work visas to Filipinos due to the Philippines' supposed non-compliance with the 2018 bilateral labor agreement.
The Philippine government temporarily banned the deployment of first-time household service workers to Kuwait, after the killing of Jullebee Ranara whose burnt body was found in the desert in January.
The previous administration in 2018 imposed a temporary deployment ban after the murder of household worker Joan Demafelis.
As of 2022, the number of Filipinos in Kuwait is estimated at 279,000.
OFW remittances from Kuwait amounted to USD579,186 in 2022, and USD576,059 in 2021. (PNA)