By Ruth Abbey Gita-Carlos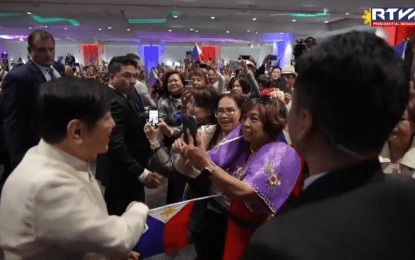 MANILA – President Ferdinand R. Marcos Jr. on Wednesday (Manila time) thanked the overseas Filipinos in the United States (US) for creating a "positive image of the Philippines and of the Filipino people."
During his meeting with the Filipino community in San Francisco, California, Marcos hailed the Filipinos residing and working in the US for their vital role in revitalizing the Philippine economy.
"I know that you all came to the United States for many different reasons, mostly economic. You sought greener pastures and better life for yourselves and for your families, but this did not stop you from giving back to your homeland, the Philippines," he said.
"I cannot help but feel proud of your achievements (and) be grateful for all that you do that create a positive image of the Philippines and of the Filipino people in America."
The US is home to about 4.2 million Filipinos and Filipino-Americans.
Marcos said Filipinos abroad, including overseas Filipino workers (OFWs), have an outstanding reputation because of their good traits.
He hailed the Filipino nurses, doctors, first responders, and essential workers in the US who have demonstrated the "timeless Filipino virtues of compassion, companionship, and teamwork," especially at the height of the coronavirus disease 2019 (Covid-19) pandemic.
"During Covid-19, Americans experienced first-hand the Filipino way of caring and acting on the needs of others," he said. "We are all grateful for your selfless service to humanity, and we look up to you as role models for future generations of Filipinos and Filipino-Americans."
Marcos noted that foreign countries are hiring Filipinos "at every level," be it unskilled labor, skilled labor, or professional work, because they are known for being "reliable, helpful, hardworking, and trustworthy."
He assured the Filipino community in the US that his administration is working hard to improve the lives of all Filipinos.
Marcos also pledged to ramp up the government's efforts to transform the Philippine economy and adjust it to the "new global post-pandemic economy."
His administration, he said, is digitalizing public services to make it easier to transact with government offices.
"Mula noon hanggang ngayon, pinatutunayan ninyo na kayo ang mga bagong bayani ng ating salinglahi. Kaya naman sa 'Bagong Pilipinas' na ating tinataguyod, nais ng inyong pamahalaan na suklian ang inyong pagsusumikap upang bigyan ng mas magandang bukas ang ating mga anak (From then until now, you are proving that you are the new heroes of our generation. That is why in the 'New Philippines' that we are promoting, your government wants to reciprocate your efforts to give our children a better tomorrow)," Marcos said.
"Let us remain united and firm towards our common goal so that together, we'll be able to leave behind a new Philippines that our children and grandchildren deserve."
Marcos is in San Francisco, California to participate in the 30th Asia-Pacific Economic Cooperation (APEC) Leaders' meeting.
On the sidelines of the APEC summit, he will also meet with the Filipino communities in Los Angeles, California and Honolulu, Hawaii.
The President is also expected to hold roundtable meetings with top US business leaders and witness the signing of several agreements on priority sectors, such as digital infrastructure and connectivity, renewable energy, electronics manufacturing, health, and tourism. (PNA)