By Ma. Teresa Montemayor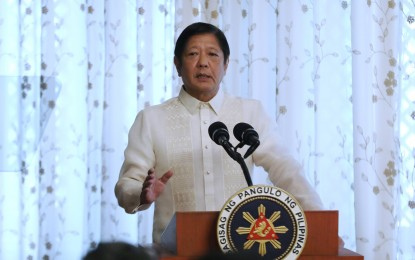 MANILA – President Ferdinand R. Marcos Jr. is set to attend the First ASEAN-Gulf Cooperation Council (GCC) Summit in Riyadh, Saudi Arabia on Oct. 20.
Department of Foreign Affairs Assistant Secretary for the Office of ASEAN Affairs Daniel Espiritu on Monday said the summit proper would focus on the endorsement of a framework of cooperation between the ASEAN and GCC for 2024 to 2028.
Apart from the summit, the President will meet with the Filipino community and have a business roundtable with Arab businesses together with the Ministry of Investment of Saudi Arabia and bilateral meetings with Bahrain and Saudi Arabia.
"The probable bilateral meeting with Saudi Arabia would focus on the 54 years of diplomatic relations between the Philippines and Saudi Arabia and that one with Bahrain would focus on the 45th anniversary of diplomatic relations between the two countries," Espiritu told reporters in a Palace briefing.
"Part of the discussion could be the presentation of the Maharlika Fund to the Kingdom of Saudi Arabia and its businesses, the protection of our nationals abroad especially in terms of labor reforms being proposed for the Kingdom of Saudi Arabia and the Arab assistance to the development of our Bangsamoro Autonomous Region in Muslim Mindanao."
Marcos is scheduled to fly to Riyadh on Oct. 19 and leave back home on Oct. 20, right after dinner following the summit, Espiritu said.
The relations between ASEAN and GCC began in 1990.
However, this is the first summit held as both organizations have been engrossed with community-building activities and improvement of coordination among its bodies and cooperation in different areas of mutual interest.
The summit aims to intensify cooperation between the two regional organizations and discuss the current developments in the Middle East.
"The GCC is composed of highly-developed Arab economies and petro-chemical powerhouses and they have logistic economies. They can help ASEAN in addressing energy and food security," Espiritu said.
He added that they are also advanced in operations of supply chains and ports and shipping and connectivity so they can help ASEAN in addressing supply chain disruption in the past years.
Espiritu noted that the summit would set the tone for the cooperation with focus on political security, economic and socio-cultural issues. (PNA)