By Raymond Carl Dela Cruz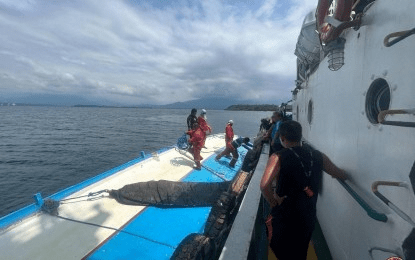 MANILA – The Philippine Coast Guard (PCG) has completed the recovery of FB Dearyn, the fishing boat that capsized in Pangasinan in a collision incident with an international oil tanker early this month.
In a statement Monday, PCG spokesperson for the West Philippine Sea, Commodore Jay Tarriela, said the recovered vessel arrived at Subic Freeport in Zambales before midnight Sunday.
The remnants of the fishing boat will be used by the Philippine National Police (PNP) forensics in an investigation to strengthen the case against MV Pacific Anna, the Marshall Islands-flagged tanker that allegedly rammed FB Dearyn.
The recovery operation was carried out by Task Force Kaligtasan sa Karagatan (safety at sea) led by Vice Admiral Joseph Coyme and divided into three phases — aerial survey, security and salvage operations.
The first phase of the operation began on Oct. 7 with the deployment of the PCG's Cessna Caravan to locate the fishing boat.
Once the location was confirmed via aerial survey, the PCG deployed BRP Malapascua (MRRV-4403) to the FB Dearyn's location on Oct. 8 to secure the area while awaiting the arrival of a salvage vessel.
Coyme, also the commander of the Maritime Safety Services Command, sought assistance from the Harbor Star Salvaging Company, a PCG-accredited salvage company.
The company provided tugboat MT Avior for the actual salvage operation.
"On Oct. 11, 2023, the salvor reached the location where it successfully refloated FB Dearyn and towed to Subic, Zambales. The fishing vessel was then towed for six days until it arrived at Subic Freeport," he said.
The PCG previously said no other vessel went near FB Dearyn, except MV Princess Anna, based on the data on ships' transponders in the area.
It added that the incident was likely an accident based on the testimonies of survivors.
On Oct. 2 at around 4:20 a.m., FB Dearyn was moored to its payao (raft), carrying six of its crew members, when it was rammed, causing the boat to capsize and resulting in three fatalities.
The survivors were later rescued by the other crew members who were out fishing when the incident occurred. (PNA)