By Raymond Carl Dela Cruz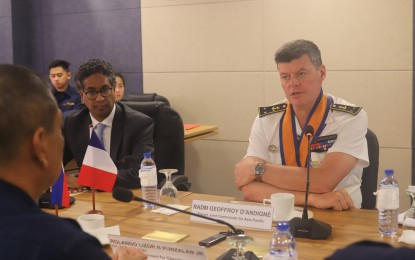 MANILA – Officials of the Philippine Coast Guard (PCG) and the French Navy on Friday met to discuss cooperation and implementing agreements in the Asia Pacific region.
In a statement, the PCG said PCG Deputy Commandant for Operations, CG Vice Adm. Rolando Punzalan Jr., led the delegation that welcomed French Commander for Asia Pacific, Rear Adm. Geoffrey d'Andigné, at the PCG national headquarters in Port Area, Manila.
"The officials discussed how to reinforce cooperation between the PCG and the French Navy and the possible implementing agreement between the armed services," it said.
Punzalan and d'Andigné, it said, also discussed the current challenges faced by the PCG and how the French Navy can provide support.
Punzalan, it said, represented PCG Commandant, CG Adm. Artemio Abu, during the meeting.
Other PCG officials present include PCG Deputy Commandant for Administration, CG Vice Admiral Ronnie Gil Gavan; Coast Guard Public Affairs Office Commander, CG Rear Admiral Armando Balilo; Coast Guard Strategic Studies and International Affairs Deputy Director, CG Commodore Vivien Jane Cay; and Deputy Chief of Coast Guard Staff for International Affairs, CG Commodore Algier Ricafrente.
Earlier, d'Andigné' also met with AFP Inspector General Lt. Gen. William Gonzales to reinforce cooperation between the two armed forces in training, education, and logistics operations.
Apart from Camp Aguinaldo and the PCG headquarters, d'Andigné also visited the headquarters of the Philippine Navy. (PNA)