By Leonel Abasola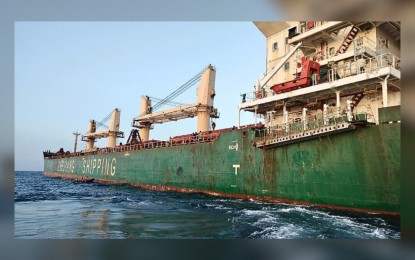 MANILA – A Chinese-flagged bulk carrier transporting nickel ore ran aground off the waters of Guiuan, Eastern Samar, the Philippine Coast Guard (PCG) reported Thursday.
In an incident report, the PCG said the carrier, MV ZHE HAI 168, had 20 Chinese crew on board, and transporting nickel ore from Homonhon Island, also in the same province, to Caofeidian District in China when the accident occurred at around 6:10 p.m. on April 18.
Local government officials and the Department of Environment and Natural Resources carried out an ocular inspection the following day, the report read.
"The Coast Guard Sub-Station Guiuan will supervise the salvage operations and ensure no spillage will occur by installing oil spill booms," the incident report read.
Assessment for possible traces of oil spill yielded a negative result.
The Chinese crew also confirmed no leakage or damage inside the vessel, according to the PCG.
The PCG said a salvage team from Singapore will arrive April 27 to temporarily transfer the cargo to a barge and pull out the ship.
The PCG will conduct another hull assessment after the pull-out of the bulk carrier, it added. (PNA)