By Christopher Lloyd Caliwan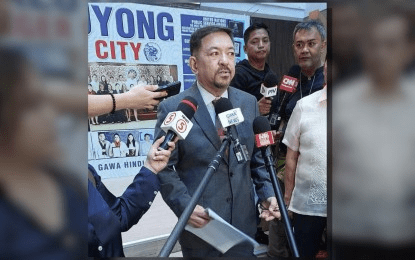 MANILA – The Philippine Charity Sweepstakes Office (PCSO) filed charges against four firms allegedly engaged in unauthorized online lottery operations in the country.
PCSO general manager Mel Robles on Monday led the filing of the charges for usurpation of authority and violations of Republic Act 1169 (An Act Providing for Charity Sweepstakes Horse Races and Lotteries) and Presidential Decree 1602 (illegal gambling) against Eplayment Corporation, Paymero Technologies Limited, GlobalComRCI International, and Blockchain Smart-Tech Co.I.T.Consultancy before the Mandaluyong City Prosecutor's Office.
"Hindi tayo nagbibiro kakasuhan at ipakukulong natin ang lahat ng may kaugnayan sa iligal na operasyong ito para mahinto na ang kalokohan nila (We are not kidding, we will prosecute and jail everyone related to this illegal operation to stop their illegal activities)," Robles said told reporters after the filing.
He said the criminal complaints were prompted by an investigation by the National Bureau of Investigation, which revealed that these groups were responsible for the ownership, operation, and administration of illegal online lottery games 'Pakilotto' and 'Surelotto'.
The investigation discovered that Eplayment, which operated under the now-defunct website 'Pakilotto', was soliciting and accepting bets from the public at an inflated price of PHP30 per ticket, a 50 percent markup compared to the standard PHP20 lotto ticket.
Surelotto, a similar mobile app, sold tickets online for PHP25, or 25 percent higher from the regular price.
Prizes of smaller denominations are allegedly directly deposited into the winner's registered bank account, while jackpot prizes require winners to visit the Surelotto office in person.
Meanwhile, GlobalComRCI and Blockchain Smart-Tech entered into an agreement with Eplayment and technology provider Paymero, using the latter's software for processing payments and managing financial account information.
Although GlobalComRCI and Blockchain Smart-Tech were considered facilitators, they reportedly established a revenue-sharing arrangement.
Robles said the companies also reportedly misused the PCSO's name, logo, and various lottery games, soliciting and accepting bets from the public through their unauthorized mobile applications and websites.
He said the PCSO is losing billions of pesos in revenues due to the illegal operations of the suspects.
Robles said the unauthorized operations by these entities not only jeopardize the agency's revenues but also erode public trust in the legitimacy and fairness of its authorized games.
"The PCSO is fully committed to ensuring that those involved face the appropriate legal consequences for their actions," he said. (PNA)