By Jean Malanum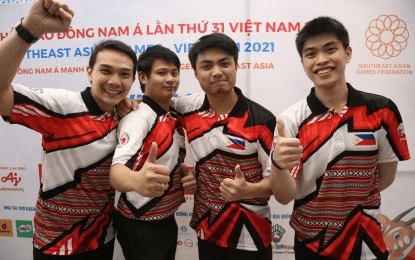 MANILA – Southeast Asian Games double-gold winner Merwin Mathieu Tan will banner the Philippine team at the 47th MWA-Singha International Open Tenpin Bowling Championship to be held from July 25-30 at the Blu-O Rhythm & Bowl Ratchayothin in Bangkok, Thailand.
Also competing are Patrick Neil Nuqui, Ivan Dominic Malig, Zach Ramin, JP Macatula, Lara Posadas-Wong, Marie Alexis Sy, Dyan Arcel Coronacion, Rachelle Leon and Jelena Grace Gella.
The national bowlers, who will be accompanied by Filipino coach Jojo Canare, team consultant Joe Slowinski, a United States Bowling Congress (USBC) gold coach, are scheduled to leave on Tuesday with Philippine Sports Commission (PSC) commissioner and bowling legend Bong Coo.
Tan won the men's singles and team of four with Nuqui, Malig and Christian Dychangco in Vietnam last year.
Ramin is a member of the quartet (Artegal Barrientos, Stephen Luke Diwa, Marc Dylan Custodio) that pocketed the gold medal at the 21st Asian Youth Tenpin Bowling Championships in Thailand two weeks ago.
Malig was a bronze medalist at the 2018 World Youth Bowling Championships in Detroit, Michigan. He got two silver medals at the 2015 Asian School Tenpin Bowling Championships in Hong Kong.
Posadas-Wong and Leon saw action at the International Bowling Federation (IBF) World Cup in Queensland, Australia last year.
Posadas-Wong has three SEA bronze medals coming from the trios with Sy and Maria Lourdes Arles (Singapore 2015), team of five with Krizziah Lyn Tabora-Macatula, Maria Liza Del Rosario, Mades Arles, Sy and Coronacion (Malaysia 2017) and team of four with Sy, Del Rosario and Bea Hernandez (Manila 2019). She also topped the Hong Kong leg of the Asian Bowling Federation Tour (2019) and the Philippine International Open (2017).
Leon won the team bronze medal with Arles, Uella Marcial and Norel Nuevo at the 2021 IBF Superworld Championships in Dubai, United Arab Emirates.
Sy captured the team silver medal with Posadas-Wong, Macatula-Tabora and Del Rosario at the 2017 Asian Indoor and Martial Arts Games (AIMAG) in Ashgabat, Turkmenistan.
The Thailand Open is part of the national bowlers' preparation for the World Championships in Kuwait (Oct. 3-18) and AIMAG, which was rescheduled for next year. (PNA)