By Priam Nepomuceno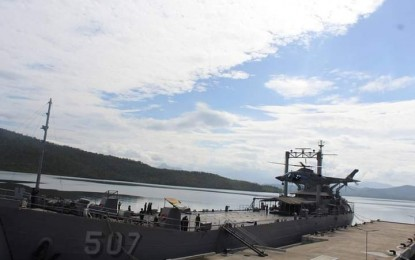 MANILA – The Armed Forces of the Philippines (AFP) on Sunday said that one of its transport vessels, the BRP Benguet (LS-507), issued "consecutive radio challenges" to a Chinese naval vessel for shadowing while near the Pag-asa Island on Friday.
"The Philippine Navy (PN)'s BRP Benguet warned off and issued consecutive radio challenges to China's People's Liberation Army Navy 621 (PLAN 621) after it shadowed the former at an 80-yard distance and attempted to cross LS-507's bow with a CPA (closest point of approach) of 350 yards at 5.8 nautical miles southwest of Pag-asa Island on Friday, October 13," AFP public affairs office chief, Lt. Col. Enrico Gil Ileto, said in a news release Sunday.
BRP Benguet was en route to Rizal Reef Station for its regular rotation and resupply (RoRe) mission when the tailing occurred between 1:40 p.m. and 5:04 p.m. Friday, the AFP said.
"The PN crew cited the violation of the collision regulations (COLREG) in its radio challenges, and demanded that the Chinese vessel steer clear of the BRP Benguet," Ileto said.
Instead of changing its course, the PN received a counter-response from PLAN 621 using its "ten-dash line" narrative.
It was not clear how the encounter ended.
AFP chief Gen. Romeo Brawner Jr. asked China to cease such dangerous maneuvers and aggressive actions towards Philippine vessels.
He added that the potential for collision and accident at sea further highlights the urgency for China to uphold maritime safety standards.
"These dangerous and offensive maneuvers by China's PLAN not only risk collision but also directly endanger the lives of maritime personnel from both sides. The AFP remains committed to ensuring the safety of its personnel during RoRe missions and asserts that it will continue to adhere to the rules-based international order," Brawner said in another statement.

Western Command head, Vice Admiral Alberto Carlos, likewise expressed alarm over yet another perilous action by a Chinese vessel.
He said China must "conduct themselves in a professional manner by adhering to international law." (PNA)