By Filane Mikee Cervantes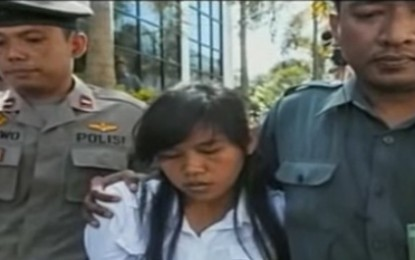 MANILA – President Ferdinand R. Marcos Jr. on Tuesday said the Philippine government has not stopped from its appeal for clemency for Mary Jane Veloso, the Filipino worker who has been on Indonesia's death row over drug-related charges.
"We haven't really stopped," Marcos told reporters in a press briefing before the start of the 42nd Association of Southeast Asian Nations (ASEAN) Summit and Related Summits in Indonesia. "We continue to ask for a commutation, or even a pardon, or extradition back to the Philippines."
Marcos, however, pointed out that the Indonesian government that Veloso's case will depend on the prevailing laws in the country.
"But the Indonesians answer us that this is the law. Eto yung batas dito sa Indonesia, kaya't kailangan natin ipagpatupad yan (that's we need to implement it)," he said
He assured the public that the government continues to look for a solution to save Veloso.
"That doesn't mean it's done. I always at least bring it up baka sakaling magbago (just in case they change their decision)," he said.
"Baka makahanap tayo ng paraan. Iuwi na lang namin yan or kami na magpaparusa sa kanya (Maybe we could find a way. We could probably just bring her home and we punish her ourselves). Basta any way to ask for clemency to ask for grace when it comes to this," he added.
Veloso has been jailed in Indonesia since 2010 when about 2.6 kilograms of heroin were found in her suitcase.
Six months after her arrest, Veloso was meted out the death penalty.
Her execution in April 2015 was postponed following the arrest of her recruiters in the Philippines.
Foreign Affairs Secretary Enrique Manalo has appealed to his Indonesian counterpart, Foreign Minister Retno Marsudi, for executive clemency for Veloso. (PNA)