By Anna Leah Gonzales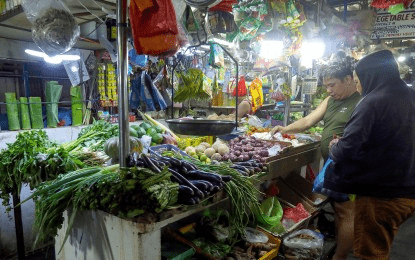 MANILA – Headline inflation eased to 4.9 percent in October this year from 6.1 percent in September, the Philippine Statistics Authority (PSA) reported on Tuesday.
Last month's headline inflation rate was also lower than the 7.7 percent recorded in October last year.
Core inflation, which excludes volatile oil and food items, was also down to 5.3 percent from 5.9 percent in September.
In a briefing, National Statistician Dennis Mapa said the downtrend was due to the slower year-on-year increase in the heavily-weighted food and non-alcoholic beverages at 7.0 percent in October from 9.7 percent in September.
Mapa said the deceleration of inflation was primarily brought about by the lower annual growth of vegetables, tubers, plantains, cooking bananas and pulses at 11.9 percent from 29.6 percent in September.
Lower year-on-year growth rates were also seen in other food groups such as flour, bread, and other bakery products; meat and other parts of slaughtered land animals; fish and other seafood; sugar, confectionery and desserts; and ready-made food and other food products.
Rice inflation also slowed to 13.2 percent from 17.9 percent the previous month.
"Price of rice decreased month-on-month," Mapa said.
He said the average price of regular-milled rice went down to PHP45.40 per kilogram (kg) from PHP47.50 per kg in September.
For well-milled rice, the average price also declined to PHP51 per kg from PHP52.70 per kg the previous month.
"If we don't see any supply shocks, our outlook is inflation will go down [for the remaining months of 2023]," Mapa said.
The restaurants and accommodation services, with an inflation rate of 6.3 percent in October from 7.1 percent in September 2023, also contributed to the downtrend of the headline inflation.
Year-to-date, headline inflation settled at 6.4 percent while core inflation was at 7.0 percent.
Inflation in the National Capital Region (NCR) also decelerated to 4.9 percent from 6.1 percent in September.
For areas outside NCR, headline inflation also slowed down to 4.9 percent in October from 6.0 percent the previous month.
Inflation for the bottom 30 percent households meanwhile also eased to 5.3 percent from 6.9 percent in September this year.
In a separate statement, the National Economic and Development Authority (NEDA) said the government will continue to help the most vulnerable sectors as El Niño or the long dry spell is expected to linger until mid-2024.
"As inflation eases, it is crucial to continue monitoring the prices of commodities, particularly food, transportation, and energy, amid global challenges such as geopolitical uncertainties and El Niño," NEDA Secretary Arsenio Balisacan said.
The Philippine Atmospheric, Geophysical and Astronomical Services Administration (PAGASA) earlier said the country is experiencing a moderate El Niño.
This is expected to bring in below-normal rainfall across the country and may adversely impact agriculture production and energy generation.
"Moreover, it is important to ensure that the most vulnerable sectors of the society are protected and provided assistance, especially while food prices remain high and we expect El Niño to affect local and global food production," Balisacan said.
The Department of Social Welfare and Development (DSWD) is currently implementing the pilot run of the Food Stamp Program (FSP), which the agency will scale up in mid-2024.
The Economic Development Group also recommended extending the reduced tariff rates for Most Favored Nation under EO No. 10 (s. 2022) until the end of 2024, subject to midyear review.
"While we are providing short-term measures to address effects of inflation through subsidies and importation, we also need to address long-standing challenges in agriculture and food supply chain and help our local farmers boost their productivity and resilience through investment in irrigation, flood control, supply chain logistics, and climate change adaptation," Balisacan said. (PNA)