By Priam Nepomuceno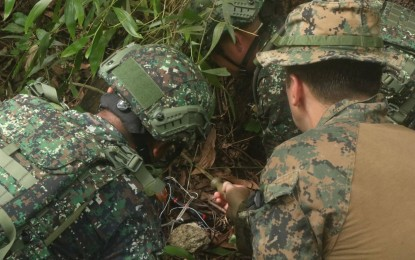 MANILA – Philippine Marine Corps (PMC) units participating in the "Kaagapay ng mga Mandirigma mula sa Dagat" ("Kamandag") exercises in Palawan have engaged in proficient drills that would boost their capabilities in explosive ordnance disposal (EOD) and other combat subject matter expert exchanges (SMEEs).
In a statement Tuesday, PMC public affairs office chief Capt. Jarald Rea said the EOD SMEE focused on equipping participants with advanced techniques safely and efficiently in detecting, neutralizing, and disposing of explosive devices.
"Experts from different countries shared their experiences and expertise in EOD operations, including bomb disposal procedures, improvised explosive devices recognition, and post-blast investigation techniques," he added.
Aside from EOD training, Rea said "Kamandag" troops also undertook mortar familiarization SMEE to enhance participants' understanding and proficiency in mortar systems.
"Through practical demonstrations and interactive sessions, attendees gained insights in mortar operations, aiming and firing techniques, ammunition types, and range estimation. The activity emphasized the importance of accuracy, safety, and effective teamwork in mortar employment," he added.
Aside from these exercises, "Kamandag" participants also trained in the so-called PMC Martial Arts Program (PMCMAP) tactical combat casualty care and basic photography.
Instructors shared their knowledge and skills in close-quarters combat, edged weapons techniques, and empty-hand combat.
Participants learned the principles of PMCMAP and its relevance to modern combat situations, emphasizing speed, precision, and adaptability.
Meanwhile, the tactical combat casualty care SMEE aimed to enhance participants' ability to provide immediate medical care in high-stress combat environments.
The training emphasized the critical importance of rapid and effective medical intervention in saving lives on the battlefield.
Meanwhile, the basic photography lecture provided participants with fundamental skills and knowledge in the art of photography.
"Experts shared insights into camera operation, composition, lighting, and post-processing techniques. The exchange focused on enhancing participants' ability to capture compelling visuals, whether for documentation purposes, intelligence gathering, or personal interest," Rea said.
The "Kamandag" drills, scheduled from Nov. 9 to 20, will take place in various locations in Luzon and Mindanao.
About 1,732 Philippine Marine Corps personnel will join "Kamandag," along with 902 from the United States Marine Corps.
Also taking part in the exercise are 57 personnel from the South Korea (Republic of Korea) Marine Corps and 50 from the Japan Ground Self-Defense Force.
Last year, South Korea and Japanese troops merely acted as observers in the 2022 iteration of "Kamandag," which took place from Oct. 3 to 14.
Meanwhile, eight personnel from the UK will act as observers for the annual exercise for the first time. (PNA)