By Priam Nepomuceno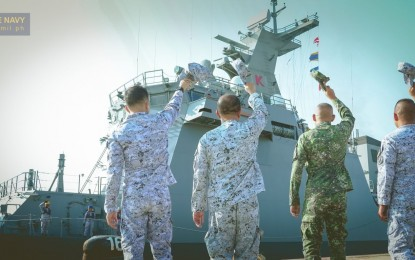 MANILA – The Philippine Navy (PN) on Friday announced it has deployed missile frigate — BRP Antonio Luna (FF-151), along with an AW-109 naval helicopter to take part in the ASEAN-India Maritime Exercise (AIME) 2023 which will be held in Singapore.
The 140-strong contingent, named Naval Task Group 80.5, had its send-off ceremony on Thursday.
"Fleet-Marine Ready Force (FMRF) commander, Marine Brig. Gen. Edwin Amadar, led the send-off of a 140-strong contingent held at the Naval Operating Base Subic," PN spokesperson Captain Benjo Negranza said in a statement sent to the Philippine News Agency.
He said AIME 2023 will be conducted in Singapore from May 2 to 8.
It will feature harbor and at-sea events aimed at enhancing interoperability and exchange of best practices among participating navies.
"The Philippine contingent will also attend the coinciding event in Singapore, the International Maritime Defense Exhibition Asia (IMDEX) 2023," Negranza said.
The event provides a platform for the defense and maritime sectors to foster engagements and showcase latest innovations.
The PN's participation in this exercise fulfills the requirement to enhance the skills of its personnel with the acquisition of modern assets.
It likewise conveys its unwavering commitment to enhance cooperation with ASEAN and Indian navies toward regional peace and stability. (PNA)