By Ruth Abbey Gita-Carlos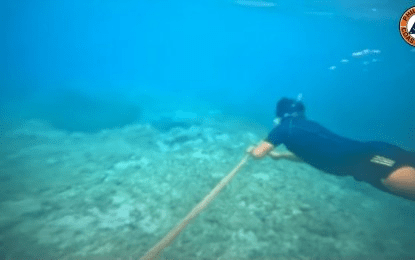 MANILA – The Philippines is "seriously" studying the case buildup against China, in the wake of its installation of floating barriers at Scarborough Shoal, also known as Bajo de Masinloc, Executive Secretary Lucas Bersamin said Thursday.
In an interview with journalist Anthony Taberna, Bersamin said filing another lawsuit against China is "one of the options" of the Marcos administration to assert the Philippines' rights over its territory.
"This is the position that the government will take most likely. We have always conducted our relations, (our) foreign policy on a strictly diplomatic tact. Wala tayong (We do not have) aggressiveness or aggression or what," Bersamin said.
"But whether or not we will file another case against China is one of the options, and I think our lawyers are seriously giving this a study. But it might be, most very probably, very probable. But we are not going to say definitely that we will," he added.
Earlier Thursday, Justice Secretary Jesus Crispin Remulla said the Philippine government's legal team is determining the proper complaint that will be filed against China.
Remulla said the government is considering filing the case before the Hague-based Permanent Court of Arbitration and other bodies such as the International Court of Justice.
Bersamin said he supports the country's move to "[go] against China," adding that the intention to file another lawsuit shows determination to "exact some accountability" on Beijing.
"We do not do anything na hindi nagre-react 'yung China. Lagi tayong tinututukan (that China will not react. They always monitor us). But you know that this is an administration that will not lose an inch of Philippine territory or sovereignty. I cannot make a statement about China. Let us say it in general terms. We are out there to defend," he said, as he emphasized the need to defend the Philippine territory, especially the West Philippine Sea (WPS).
"Alam mo may point ang pagfa-file ng kaso (You know, there's a point in filing a case). We litigate kahit hindi mag-participate ang China dahil ibig sabihin may resolve ka (even though China would not participate because we have that resolve [to challenge Beijing])."
Bersamin, however, clarified that the Philippines has no intention to fight Beijing, adding that "we can co-exist with China."
The Philippine Coast Guard (PCG) reported on Sunday that their personnel and officers of the Bureau of Fisheries and Aquatic Resources discovered an estimated 300-meter floating barrier during a routine maritime patrol on Sept. 22.
The Department of Foreign Affairs on Monday said the installation of floating barriers at Bajo de Masinloc by the China Coast Guard is an infringement of Philippine sovereignty.
The PCG already removed the floating barrier upon the instruction of President Ferdinand R. Marcos Jr. and National Task Force for the West Philippine Sea chair Secretary Eduardo Año.
Bajo de Masinloc is an integral part of the Philippines over which it has sovereignty and territorial jurisdiction, according to UNCLOS (United Nations Convention on the Law of the Sea).
The PCA's 2016 arbitral ruling also affirmed Bajo de Masinloc as a traditional fishing ground for Filipino fisherfolk. (PNA)