By Jean Malanum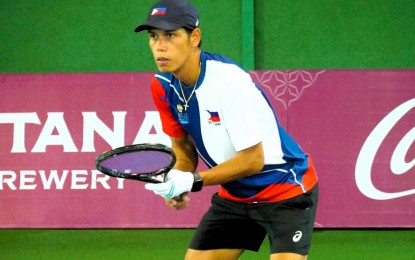 MANILA – The Philippine soft tennis team will fly to Sunchang, South Korea next week for a 15-day training camp and a tournament as final preparation for the 19th Asian Games.
The squad composed of siblings Bien Zoleta Mañalac and Bambi Zoleta, Princess Catindig, Christy Sañosa, Vivienica Bejosano, Joseph Arcilla, Dheo Talatayod, Samuel Nuguit and Adjuthor Moralde, and coaches Michael Jose Enriquez, Josephine Paguyo and Divina Escala are scheduled to leave on Aug. 23.
"It's important for the team to train again in Sunchang, Korea to get additional knowledge and new techniques," Escala told the Philippine News Agency (PNA) on Thursday.
"Right now, they have no idea what challenge they will face in the upcoming Hangzhou Asian Games. The team's goal is to become aware and have a clear view or vision of their skills and game against top teams such as Korea, Japan, Chinese Taipei and China. We only need to get past one of those teams and we will have a clear chance for a medal," added Escala, who won the team bronze medal in the 2011 Southeast Asian Games in Palembang, Indonesia.
The nationals pocketed seven medals at the Nonghyup Bank Korea Cup in Incheon City last June, three bronzes coming from the mixed doubles (Bien Zoleta and Talatayod), men's singles (Arcilla) and men's team event (Talatayod, Arcilla, Nuguit and Ryan Carpio) in the main draw.
In the Challenge Round, the Filipinos secured gold medals in the men's singles (Nuguit), women's singles (Sañosa), mixed doubles (Bejosano and Cambodian John Mada) and women's team (Zoleta, Catindig, Sañosa, Bejosano and Bea Ebriega), while Catindig got a bronze medal in the mixed doubles with Polish Franciszek Sliwa.
At the Cambodia SEA Games in May, the Nationals won five medals, including three golds courtesy of Arcilla (singles), Bien Zoleta and Catindig (doubles) and the team of Catindig, Virvien Bejosano, Fatima Amirul, Bien and Bambi.
Bambi also won the singles silver while the team of Arcilla,Talatayod, Mark Anthony Alcoseba, Nuguit, Moralde and George Patrick Mendoza pocketed the bronze.
"The Philippines is always a quarterfinalist in the Asian Games, hopefully we can make history and bring home the medal in Hanghzhou. With their experiences at the Cambodia SEA Games, hopefully in this last stretch, the maturity of the players' game will emerge," said Escala, who bagged the doubles bronze medal with Bien Zoleta in the 2008 Asian Soft Tennis Championships.
The team's impressive performance in Cambodia was a result of a technical exchange program with the Korea Soft Tennis Association, which sent the Korea Daegu Bank team to the Philippines.
The Asian Games will take place from Sept. 23 to Oct. 8, while the soft tennis competition will be held from Oct. 3-4 (team event), Oct. 5 (doubles) and Oct. 6-7 (singles) at the Hangzhou Olympic Tennis Center.
The Philippine Soft Tennis Association is headed by Cpt. Robert Joseph Moran. (PNA)