By Jean Malanum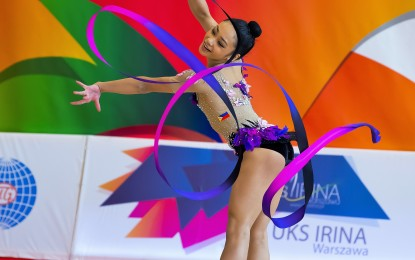 MANILA – The Philippines will host the 19th Junior and 14th Senior Rhythmic Gymnastics Asian Championships from May 31 to June 3 at the Ninoy Aquino Stadium inside the Rizal Memorial Sports Complex in Malate.
The tournament is a qualifier for the 40th FIG Rhythmic Gymnastics World Championships which will take place in Valencia, Spain on Aug. 23-27.
A total of 191 athletes — 96 in juniors and 95 in seniors — from China, Hong Kong, Indonesia, India, Japan, Kazakhstan, Kyrgyzstan, Korea, Laos, Malaysia, Mongolia, Singapore, Sri Lanka, Thailand, Taipei, Uzbekistan, Vietnam, Australia, New Zealand and Philippines will see action in the event organized by the Gymnastics Association of the Philippines (GAP) headed by Cynthia Carrion.
Takhimina Ikromova, the 2022 individual all-around champion, will banner the Uzbekistan team while individual all-around bronze medalist Yating Zhao will spearhead the Chinese squad.
Representing the Philippines are Breanna Labadan, Daniela Dela Pisa and Trisha Mae Montefalcon (senior individual); Jasmine Ramillo and Cristalin Zoe Valencia (junior individual); and Angelika Leigh Buenavidez, Andrea Mae Emperado, Jenny Eusebio, Katrina Loretizo and Divina Sembrano (senior group).
Labadan, 16, is the first Filipino gymnast to qualify for the 39th World Championships in Sofia, Bulgaria in September last year.
She won the individual all-around bronze medal at the Vietnam SEA Games.
She pocketed the silver (ribbon) and bronze (hoop) at the International Rhythmic Gymnastics Tournament-Gracia Fair Cup held on Feb. 3-5 in Budapest, Hungary.
Labadan has been training with Hungarian national champion and world-class gymnast Dora Vass since 2017.
In 2018, she bagged the Individual All-Around gold medal at the Queens Cup in Hong Kong (January) and the All-Around bronze medal at the Gracia Cup (February).
After winning five gold medals and named MVP at the Palarong Pambansa in Vigan (Ilocos Sur), she moved to Budapest in August. During the 2019 Manila SEA Games, Dela Pisa captured one gold (hoop) and two bronzes (balls and clubs) while Emperado, Loretizo and Sembrano won the bronze in group all-around with Jean Caluscusin and AJ Melgar.
Meanwhile, the schedule of the Asian Championships is as follows: May 31 – Qualification Individual (Hoop, Ball) and All-Around Group (5 Hoops); June 1 – Qualification Individual (Clubs, Ribbon) and All-Around Group (3 Ribbons + 2 Balls), Awarding Ceremony for Team and Group All-Around; June 2 – Apparatus Finals Individual (Hoop, Ball) and Group (5 Hoops); June 3 – Apparatus Finals Individual (Clubs, Ribbon) and Group (3 Ribbons + 2 Balls), Awarding Ceremony for all Apparatus Finals.
Teams are expected to arrive on May 28-29 while the judges meeting and the draw will be on May 30. (PNA)