By Priam Nepomuceno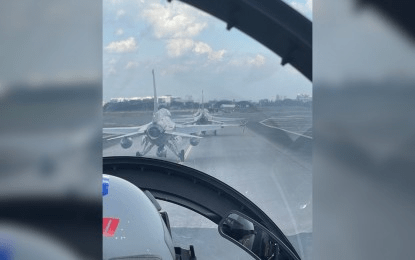 MANILA – Filipino and American combat aircraft engaged in a "defensive counter-air" (DCA) exercise over the military training area east of Luzon as part of efforts to enhance interoperability and cohesiveness between the two air forces.
Philippine Air Force spokesperson Col. Ma. Consuelo Castillo, in a statement Sunday, said the DCA took place last July 8 and is part of the second iteration of the ongoing Cope Thunder exercises between the PAF and the US Pacific Air Forces.
The Cope Thunder exercises started on July 2 and will run until July 21.
"The objective of the DCA is to enable coordinated air operations among aircraft of different types, encompassing airspace control, threat identification and engagement, and mutual support," she added.
Castillo said the PAF deployed four FA-50PH light jet aircraft while the US contributed four A-10 "Warthog" tank buster aircraft and F-22 "Raptor" stealth fighters in the exercise.
"The exercise commenced with the aircraft taking off from Clark Air Base in Mabalacat City, Pampanga, and conducting simulated DCA operations in the military training areas east of Luzon," she added.
Castillo said the aim of the DCA is for the "participating forces aimed to enhance their interoperability, refine tactical approaches, and bolster their overall effectiveness in countering airborne threats."
The first iteration of Cope Thunder for this year took place May 1 to 12 and focused on mission planning capabilities and execution of defensive and offensive counter-air operations utilizing fighter and cargo aircraft.
Meanwhile, the ongoing drills consist of subject matter expert exchanges and field training exercises to be held at several PAF air bases, including Basa Air Base and Clark Air Base in Pampanga, Col. Ernesto Ravina Air Base in Tarlac, Brig. Gen. Benito N. Ebuen Air Base in Lapu-Lapu City, Cebu, and General Santos City.
The original Cope Thunder exercises, which provided regular flight training for US pilots and those of allied nations, were first held in 1976 and continued annually in the Philippines until 1990.
President Ferdinand R. Marcos Jr. earlier said his administration's commitment to the Armed Forces of the Philippines (AFP) extends beyond the acquisition of modern equipment.
He made this pledge during the graduation ceremony of the 106 graduates of the Officer Candidate Course (OCC) "Gaigmat" Class 58-2023 last July 7.
"Be assured that the government's dedication to your advancement and welfare goes beyond providing modern equipment alone. We continue to prioritize retooling and retraining to arm you with intellectual fortitude, tactical prowess, and strategic acumen to thrive on the modern battlefield," Marcos said. (PNA)