With Kobe Bryant having won five NBA titles, one away from Michael Jordan's six, the comparisons between the two are inevitable. But Phil Jackson, who coached Bryant's Lakers and Jordan's Bulls to all 11 of their combined titles, thinks Jordan is in his own stratosphere and that the conversations comparing the two stars should stop.
"Kobe has patterned himself after Michael, and there are a lot of identical things there," Jackson told the Los Angeles Times, "but it's one thing to hope to be like him, it's another thing to be like him."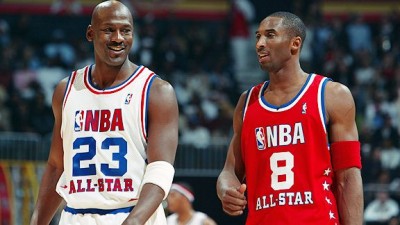 Kobe Bryant earns high praise from Phil Jackson, but the Lakers coach says his current star should not be compared to Michael Jordan.
"I'm with (ESPN's) Bill Simmons on this," he added. "We have to take Michael Jordan out of the equation. Stop comparing anyone to Michael Jordan. It's just not fair. He was remarkable. …
"(Kobe) doesn't shoot the same percentage (.455) as Michael (.497). He has the same characteristics as Michael, but he's not the same player. It takes nothing away from him — he's a great player in his own right."